Many brides are faced with the question of whether they prefer to wear a veil or a hair ornament at their wedding. Why decide for one,if often both can be combined or successively used?
In this article you will finde some experiences and ideas.
Veil
For a secure and comfortable hold, a veil (whether short, medium or extra long) is usually placed on the top of the hairstyle and not from underneath. Mostly it's carried only in the church or to the free ceremony and then perhaps afterwards for the couple shooting. Since wearing a veil is nevertheless unfamiliar and in the long run impractical, it's usually taken off pretty quickly.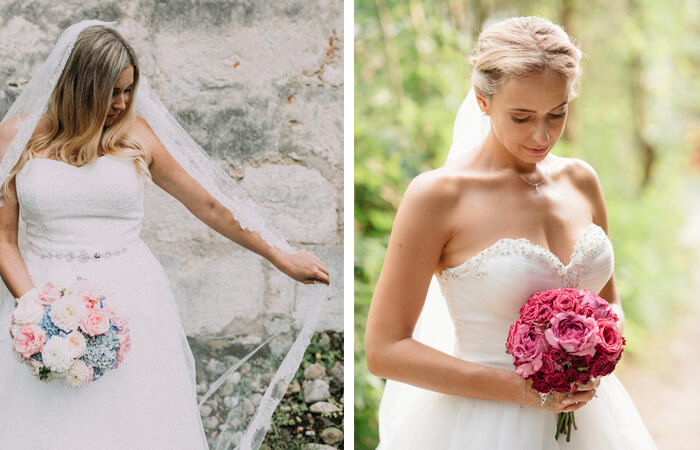 Veil & Hair accessories
To have an eyecatcher in the hairstyle even without a veil,
you can choose from a large variation of hair jewelry.
For example:
Bridal Hair Vines
Bridal Hair pins
Biridal Hair clips
Bridal Hair clasps (Alligator Pins)
Bridal Headpieces
Before the decision is made, it should be considered whether the hair jewelry should be placed before the veil or will be replaced later by hair jewelry.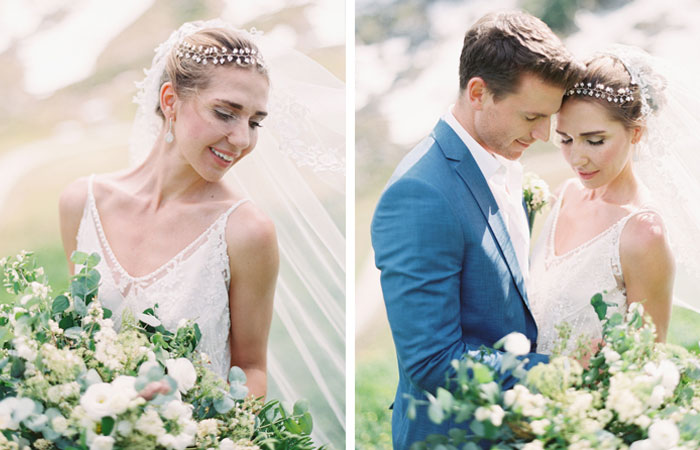 Bridal Hair Vines
Hair vines are usually incorporated into the bridal hairstyle and are therefore not suitable for being removed during the festivity without destroying the hairstyle.
Bridal hair pins, bridal hair clips & bridal hair clasps
Hair pins, hair clips & hair clasps can usually be easily inserted into the hairstyle.
The effect of hair jewelry & a veile combined has the certain something. Through the transparent fabric you can only guess the accessory, but not seeing it clearly. The greater the effect will be without the veil. If you are worrying about the fact that you can not use the hair jewelry on your own, you certainly will find your maid of honor or another dear person who likes to help you.
What ultimately is the right choice depends on many factors (hairstyle, hair length, style) and is really a question of a personal taste.
Styling example with hair pins
Corinna is wearing a romantic bridal updo with pinned curles.
The eyecatcher for this bridal hairstyle is the sparkling hair pin set NADINE.
Tina is wearing her mid-length hair in a feminine bridal updo.
For this classic bridal look she decided to choose real pearls as hair accessory CHRISTINE.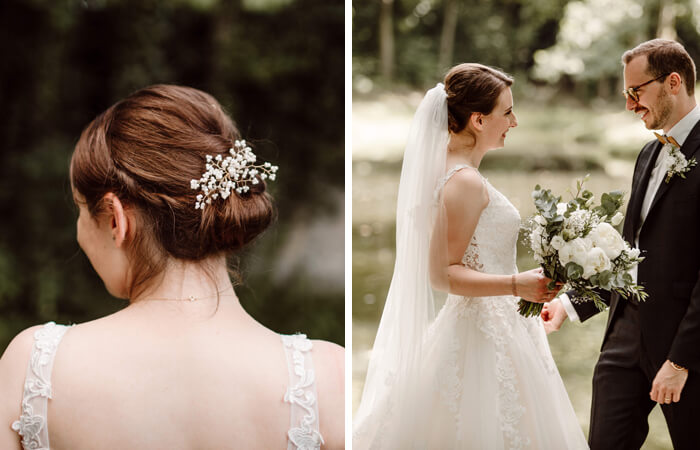 For her personal bridal styling Katha has choosen a soft half-updo with braided elements. As an accessory, she wears the larger version of the sparkling hairpin
NADINE.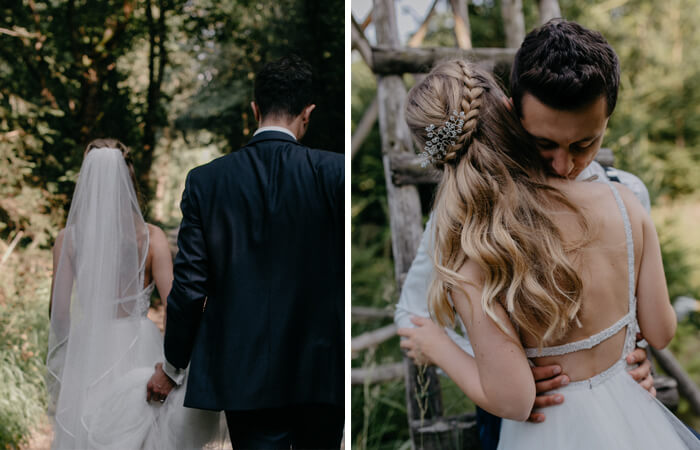 feminine wedding hair accessories by
FLEUR BLEUE DESIGN
As a bridal stylist I have a special relation to bridal hair jewelry.
Also I profit of my work experience with brides and benefit from my over 20-years long-term passion for beads. (You can read my story here).
All wedding hair jewelry by FLEUR BLEUE DESIGN is:
♥ designed and handcrafted by bridal stylist Daniela M. Weise
♥ inspired by the wishes of "real brides"
♥ only available in very small series, no anonymous mass-produced goods
♥ made with high quality material
♥ easy to insert
♥ handmade in Germany
If you need help on deciding what design is the best fit for you I'm happy to advise.
What I need to know for that can be found in the FAQs.
– – – – – – – – – – – – – – – – – – – – – – – – –
Photography: 1 & 6 Manu Frühn | 2 Ulrich Hilbel | 3 Jelena Moro | 4 Germanprofoto | 5 Allen Tsai | 7 Wertvoll Fotografie | 8 Christina Vetesnik
Brides & Couple: 1 & 6 Corinna | 2 Anne | 3 Natalija | 4 Rachel + Jiliang | 5 Diana + Franz | 7 Tina | 8 Katha
Bridal styling by Hair & Make Up Artist: Daniela M. Weise
Wedding hair accessories: FLEUR BLEUE DESIGN
Merken