Do you also wonder whether you would be happier wearing a veil or hair jewelry at your wedding? Why choose one when you can often combine the two or use them one after the other? In this article you will find some experiences and ideas that I have gained during my work as a bridal stylist and bridal hair jewelry designer.
Overview
---
Veil
Veil & hair jewelry
Styling examples
---
Veil
Veils are available in different designs and lengths (short, medium or extra long). Usually tulle is sewn in several layers on a hair comb. Sometimes models decorated with lace or small pearls are also offered.
For a secure and comfortable hold, a veil (whether short, medium or extra long) is usually placed on the top of the hairstyle and not from underneath. Mostly it's carried only in the church or to the free ceremony and then perhaps afterwards for the couple shooting. Since a veil is unfamiliar and can be annoying or impractical in the long run (danger of tripping!), it is usually taken off quite quickly
---
Considerations for the bride:
In most cases, the hair combs to which the veils are attached are simple plastic combs with short and relatively close tines.
Problematic it may then be to put the comb safely into the hairstyle. So there is the danger that it "tips" out of the bridal hairstyle. Another difficulty is sometimes to make the comb "invisible". In these cases it might be helpful to have a tailor separate the veil from the comb, bind it and attach small loops for the hairpins.
Styling examples:
Hair Jewelry & Veil
You think a veil is great, but maybe you don't want to wear it the whole wedding day? But you still want to have an eye-catcher in your hair without a veil? Then simply combine it with bridal hair accessories. Meanwhile you can choose from a large variety. For example hair bands, hairpins, hair combs, hair clips (alligator pins), hair clips, hair tendrils, headpieces or even fascinator.
Considerations for the bride:
---
Before the decision is made, consideration or decision should be done,
whether the hair ornament is already used before the veil or whether the veil is to be replaced with another accessory later. Which hair decoration is recommendable?
Hairpins, hair clips, hair combs & hair clips
Hairpins, hair clips, hair combs and hair clips can usually be inserted into the hairstyle without any problems. You are flexible in deciding whether you prefer to wear a combination of hair accessories with veils or whether you want to use them one after the other. Usually the effect of hair ornaments under a veil has that certain something. Because of the transparent material you cannot see the hair ornament 100%, you can only guess it. All the greater is the effect without tulle.
Considerations for the bride:
---
If you are worried that you will not be able to use the hair jewelry on your own, you will surely find your maid of honor or another nice person who will gladly help you.
Hair bands & hair vines
Hairbands and hair vines are usually worked into the bridal hairstyle by the bridal stylist and are therefore not suitable for removal during the ceremony (without destroying the hairstyle).
Styling examples: Styling examples with hairpins
Tina is wearing her mid-length hair in a feminine bridal updo. For this classic bridal look she has choosen to wear real pearls as hair accessory CHRISTINE mit echten Perlen einzusetzen.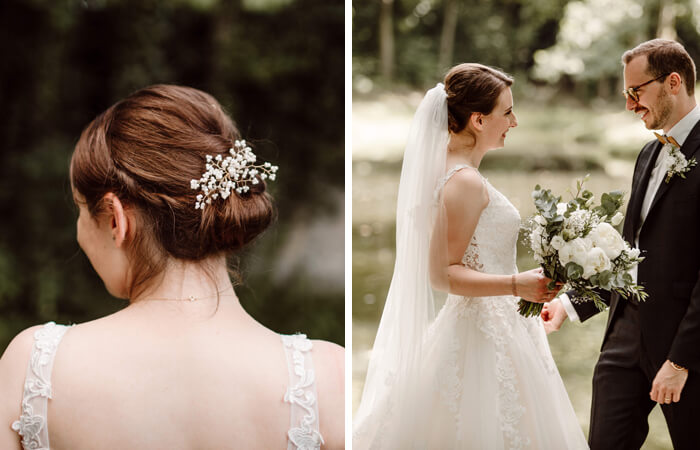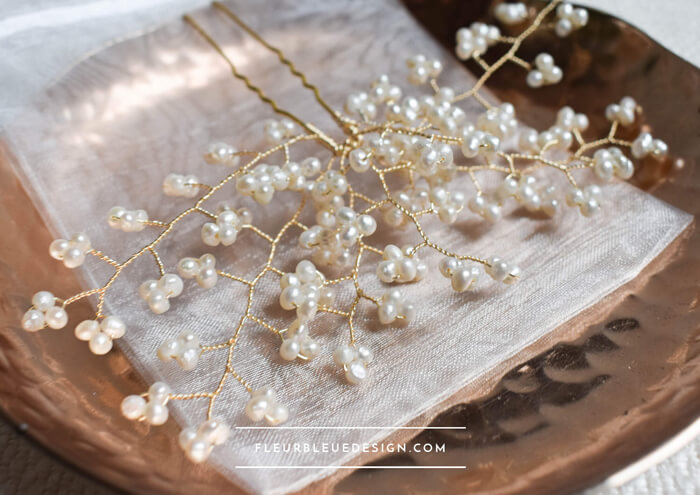 CHRISTINE large hair pin | Etsy
Corinna is wearing a romantic bridal updo with pinned curles.
The eyecatcher for this bridal hairstyle is the sparkling hair pin set NADINE Set.
Rhinestone hairpin set NADINE | Etsy
For her personal bridal styling, Katha has chosen a loose, romantic semi-high bridal hairstyle with braided elements. As an accessory she only wears the larger version of the sparkling hairpin set NADINE.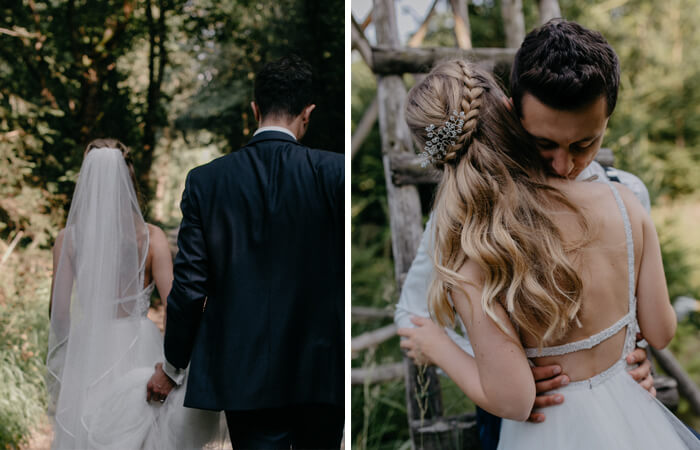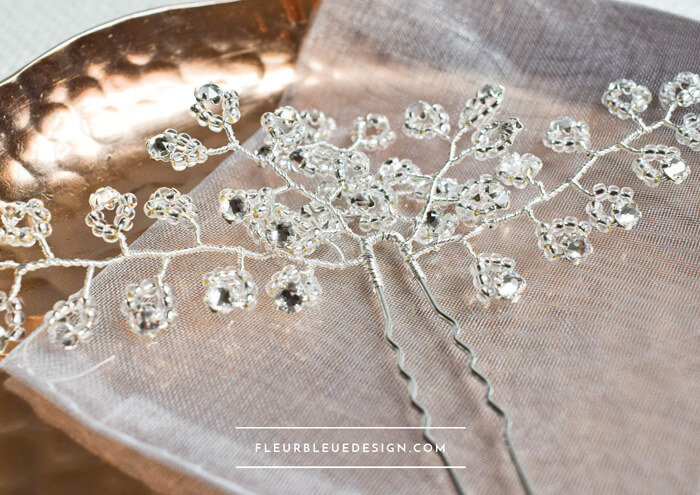 NADINE rhinestone hairpin | Etsy
Styling examples with hair vines
On her wedding day Juliane was wearing a modern half-updo with a herringbone braid. As eye-catcher she chose the delicate hair vine SUSANN with handmade silk flowers.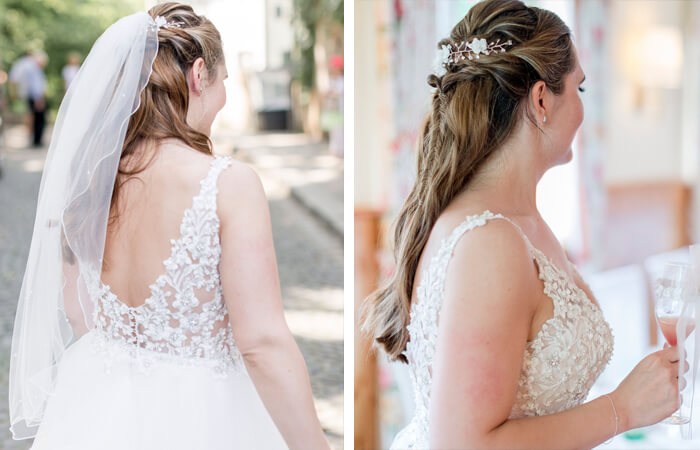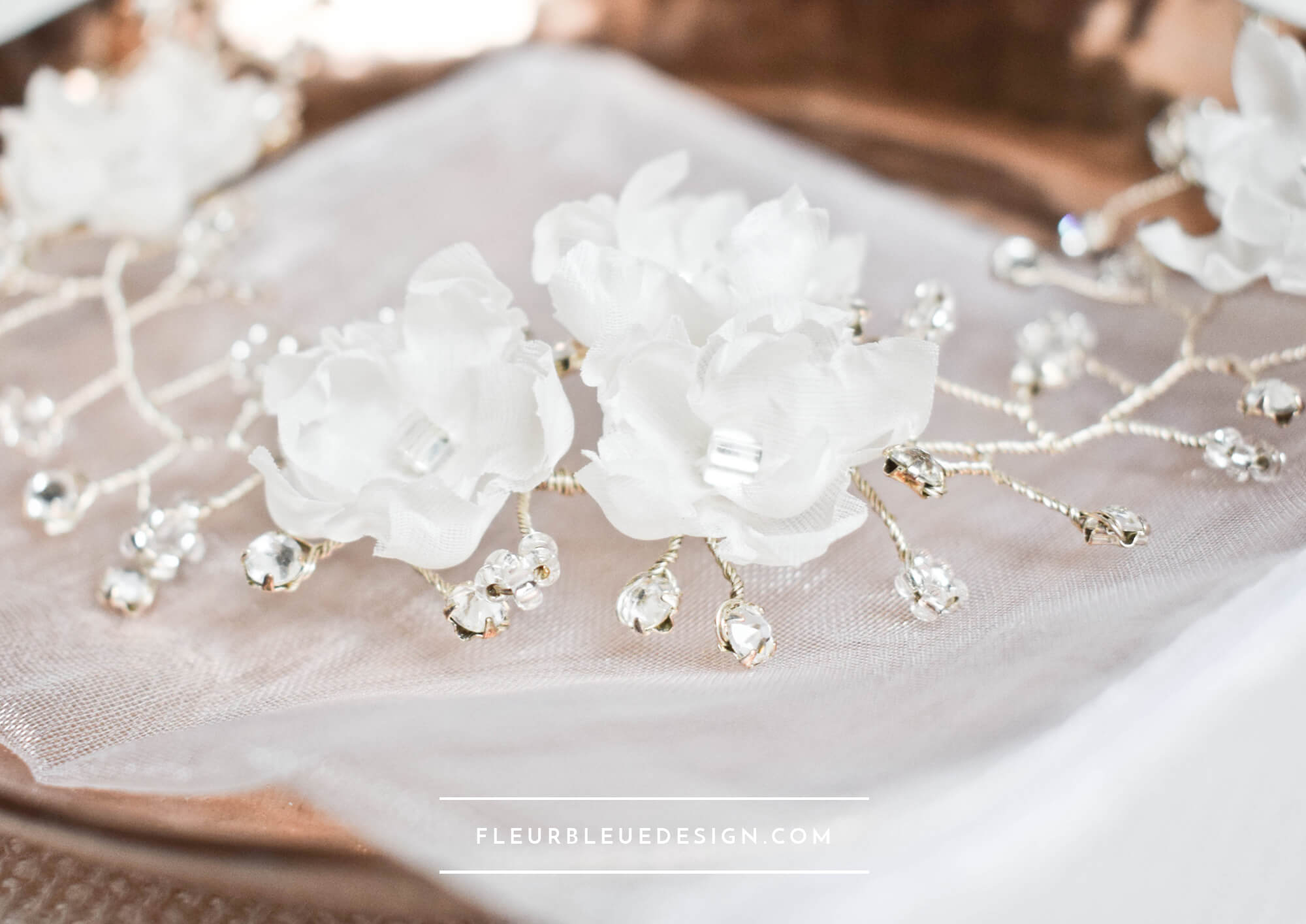 bridal hair vine SUSANN | Etsy
So whether you want to wear the hair accessories in addition to or under your veil right from the start or whether you want to change the veil later depends on several factors (hairstyle, hair length, style) and is really a matter of personal taste. Hair accessories advice wanted?
I would love to support you in your choice of hair accessories. I look forward to your mail,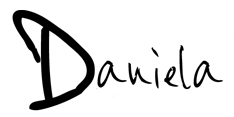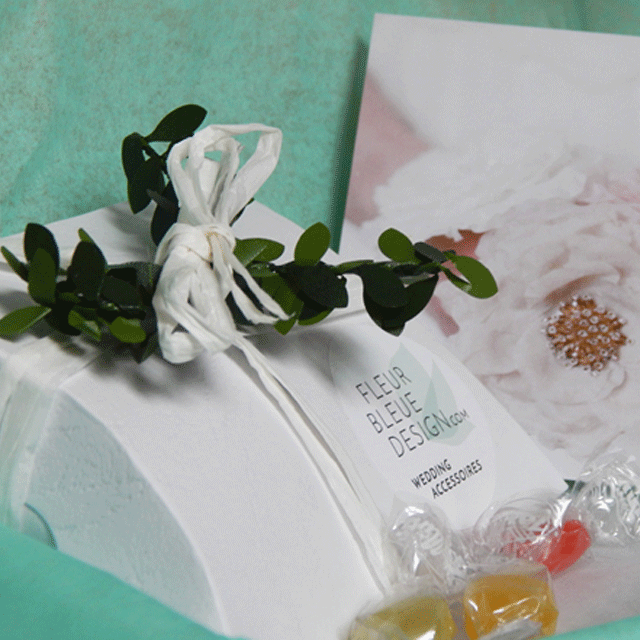 I would love to support you in your choice of hair accessories. look forward to your message.
– – – – – – – – – – – – – – – – – – – – – – – – –
Information about the shown hair jewelry by FLEUR BLEUE DESIGN
Styling (1) – Photo: Wertvoll Fotografie | Bridal styling: Daniela M. Weise | Bride: Tina | Wedding hair accessories CHRISTINE
Styling (2) – Photo: Sindia Boldt | Bridal styling: Daniela M. Weise | Bride: Juliane | Wedding hair accessories SUSANN
Styling (3) – Photo: Manu Frühn | Bridal styling: Daniela M. Weise | Bride: Corinna | Wedding hair accessories NADINE
Styling (4) – Photo: Christina Vetesnik | Bridal styling: Daniela M. Weise | Bride: Katha | Wedding hair accessories NADINE
Styling (5) – Photo: Sülo | Bridal styling: Daniela M. Weise | Bride: Nicole | Wedding hair accessories NADINE
Styling (6-7) – Photo: Germanprofoto | Bridal styling: Daniela M. Weise | Bride: Rachel | Wedding hair accessories PAULINE & FELICIA
Styling (8) – Photo: Flo Fotografie | Bridal styling: Daniela M. Weise | Bride: Laura | Wedding hair accessories BELLE