I have often been asked about ivory – the bride's favorite color. Because often there is the wish that all accessories for the wedding outfit should match exactly in color.
When it comes to matching the colors, however, it is often quickly discovered that it is more difficult than expected. I would like to inform you about this topic and help you to avoid disappointment. Because what surprises me as a bridal stylist and also bridal jewelry designer for FLEUR BLEUE DESIGN is that many people assume that there are only a handful of colors!

But Ivory is not ivory
What do I mean by that?
Apart from the fact that the colors on an image can differ from the product in reality (think of different screen settings, artificial light vs. daylight and image editing), there are an incredible number of color variations.
As with other colors, there is no default value. The color palette for ivory is large and the range of colors that pass for ivory is therefore enormous. From bright, almost white tones are also
yellowish nuances possible
Why do I want to point this out to you?
We live in a world where everything should be perfect. Our expectations are daily influenced by countless flawless photos. No wonder, then, when a bride's wish list is composed of perfect details and the scale is high. A typical example would be that all accessories should match the color of the bridal gown.
But is that possible?
With my suggestions and considerations I certainly don't want to destroy any dream image – on the contrary, I want to reduce disappointment and strive for more realistic values.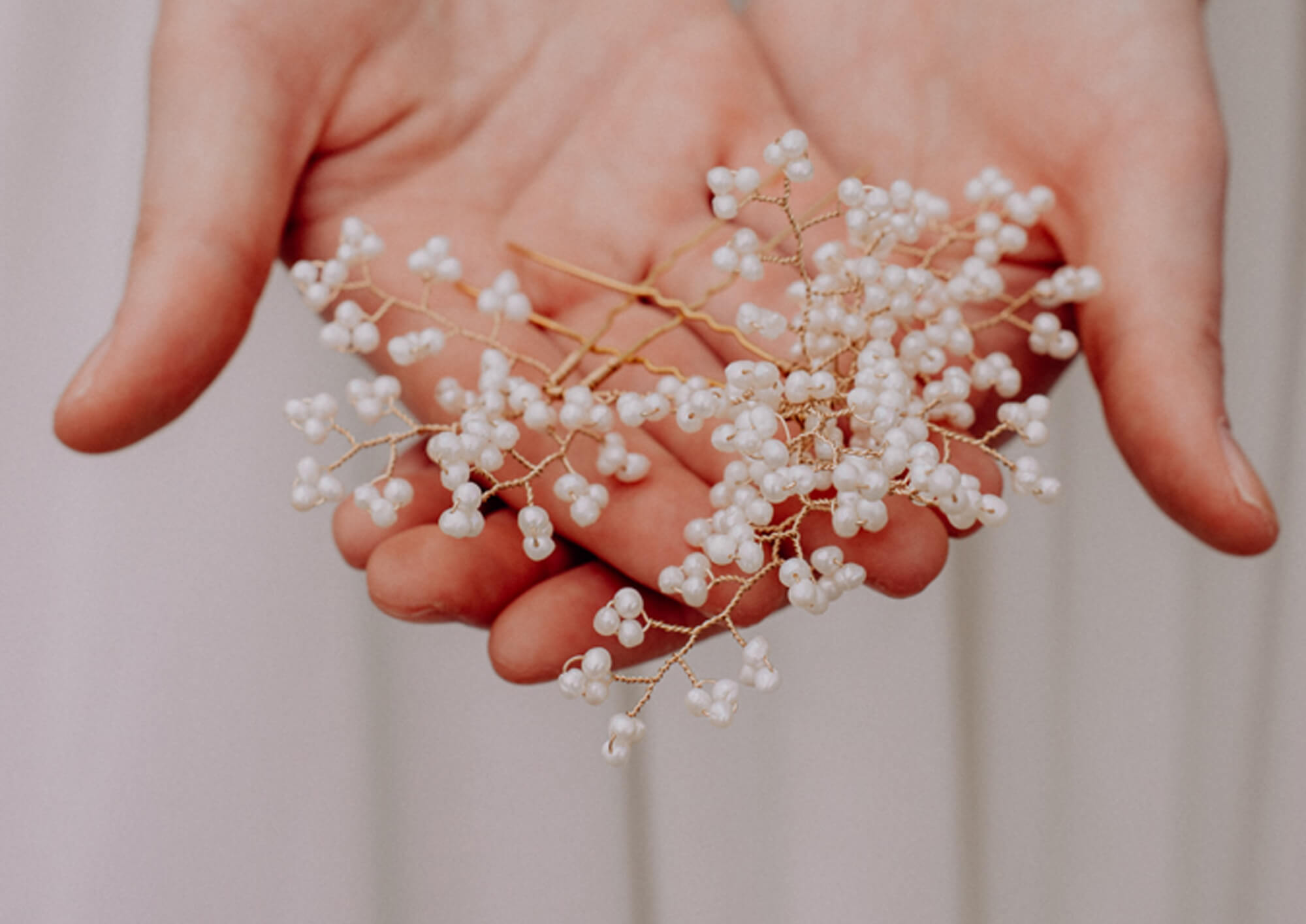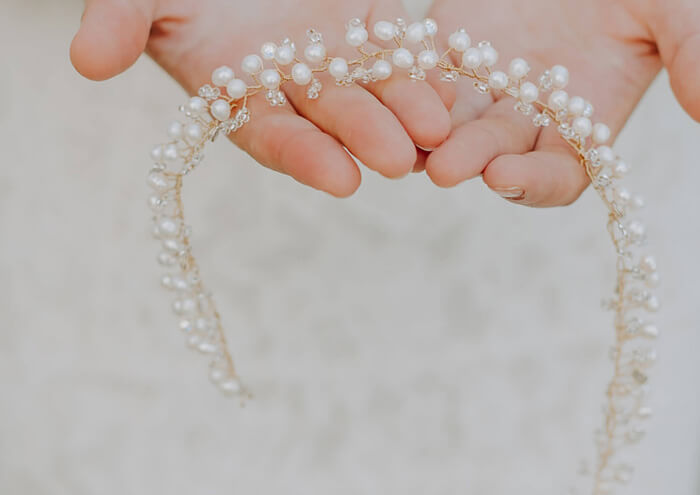 Ivory wedding jewelry
I use freshwater pearls and silk for the bridal hair jewelry and bridal jewelry of FLEUR BLEUE DESIGN. Both are natural products. Therefore each of my designs is unique and no two ivory beads are alike.
With silk the processing method plays a role. The density of the individual threads can be uneven, so that the color is absorbed differently. So the color intensity can be more or less intense.
There are many different types of freshwater pearls, where the colors can also be very nuanced. But this is also the beauty of non-machine-made pearls – each one is unique in shape and color.
Freshwater pearls hair jewelry
by FLEUR BLEUE DESIGN
Natural colored freshwater pearls in ivory are warmer in comparison to synthetic white pearls and are very beautiful in both dark and light hair. In my shop I offer a selection of different hair jewelry with freshwater pearls and bridal jewelry.
Bridal hair jewelry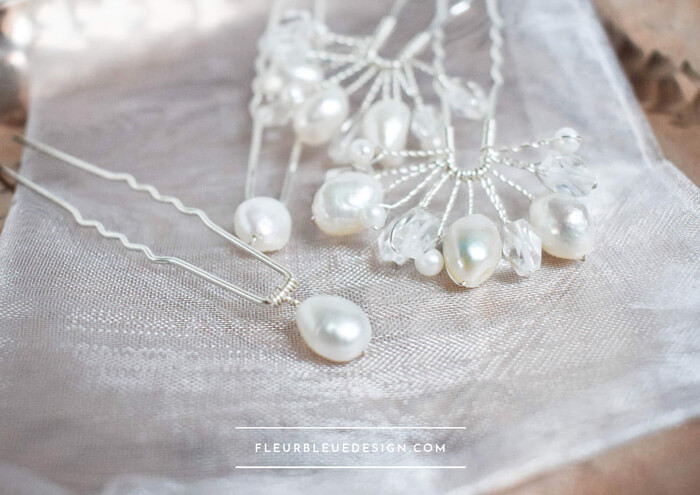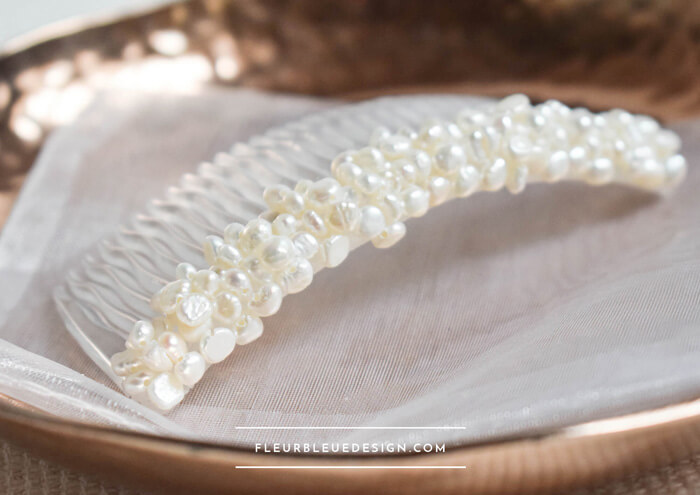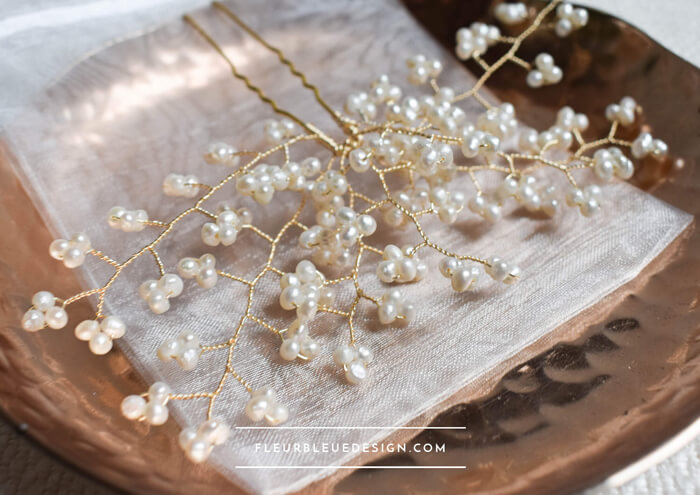 Bridal jewelry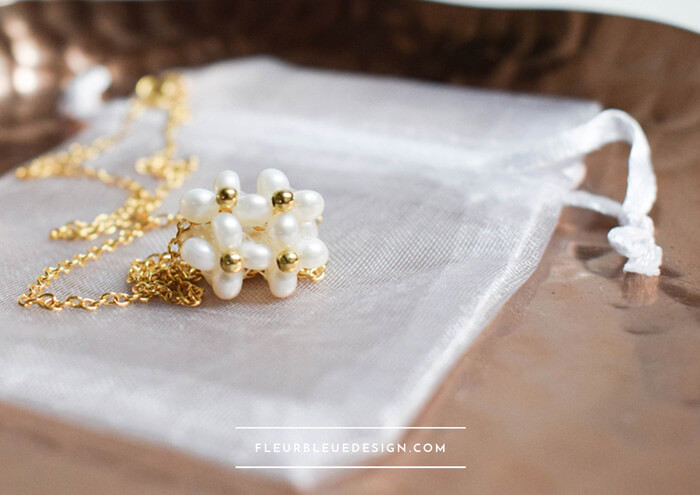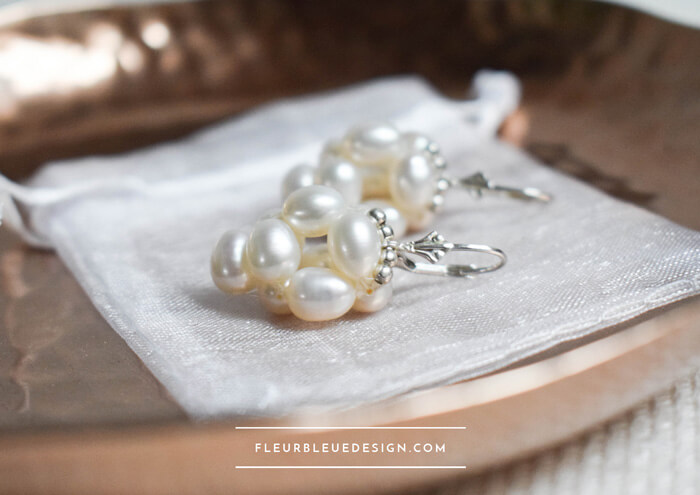 Silk flowers hair jewelry
by FLEUR BLEUE DESIGN
The handmade silk flowers of FLEUR BLEUE DESIGN are created in several steps. They are made of silk organza, a light and slightly transparent silk fabric.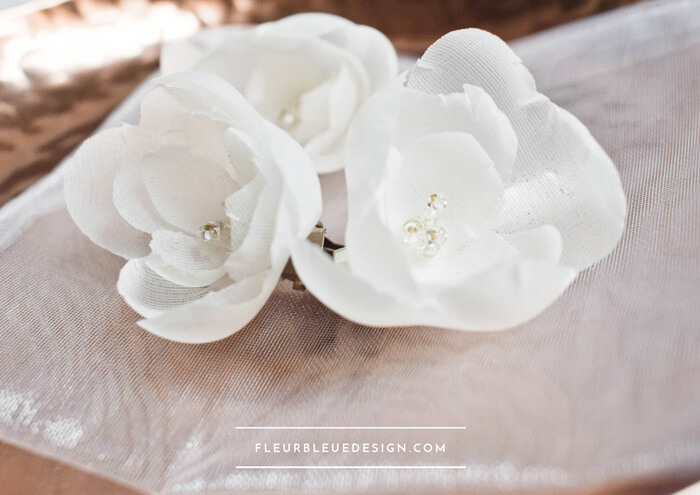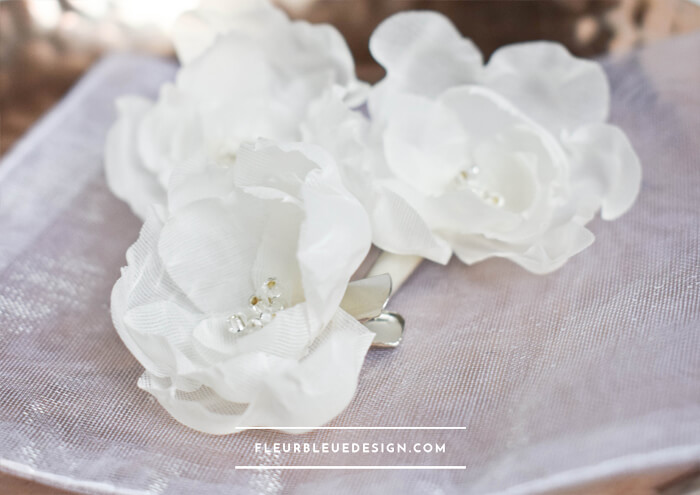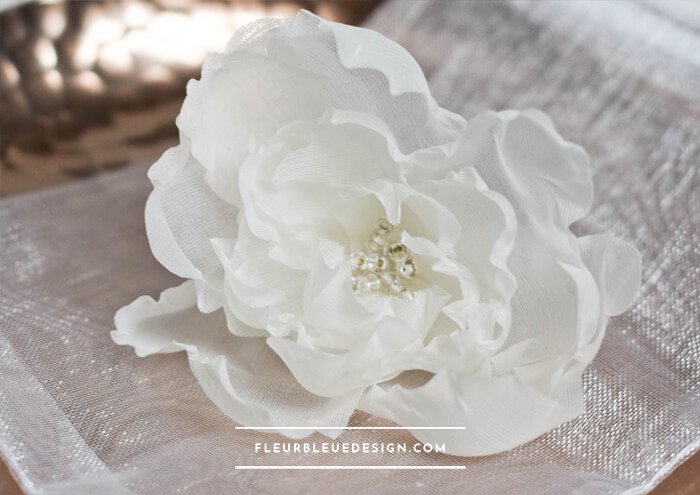 Silk flowers hair jewelry
by FLEUR BLEUE DESIGN
By the way, silk flowers can be combined very nicely with freshwater pearls or even glass pearls.
Here are a few examples: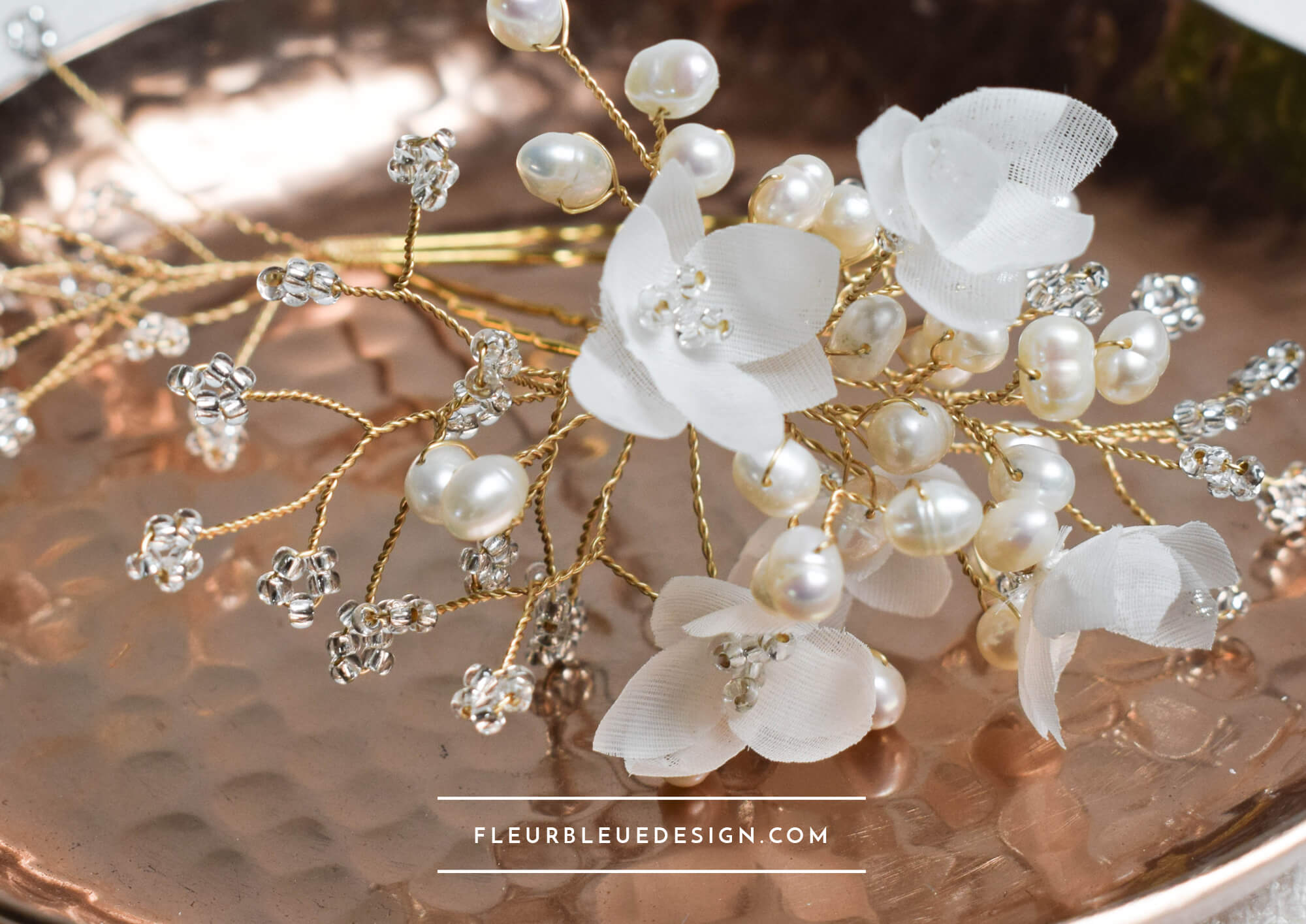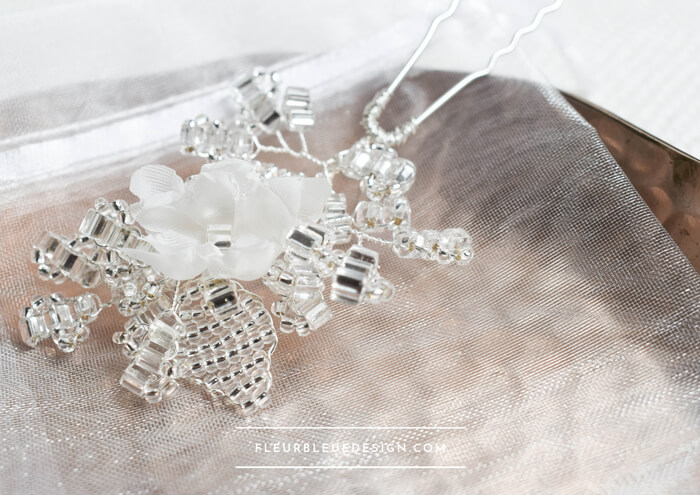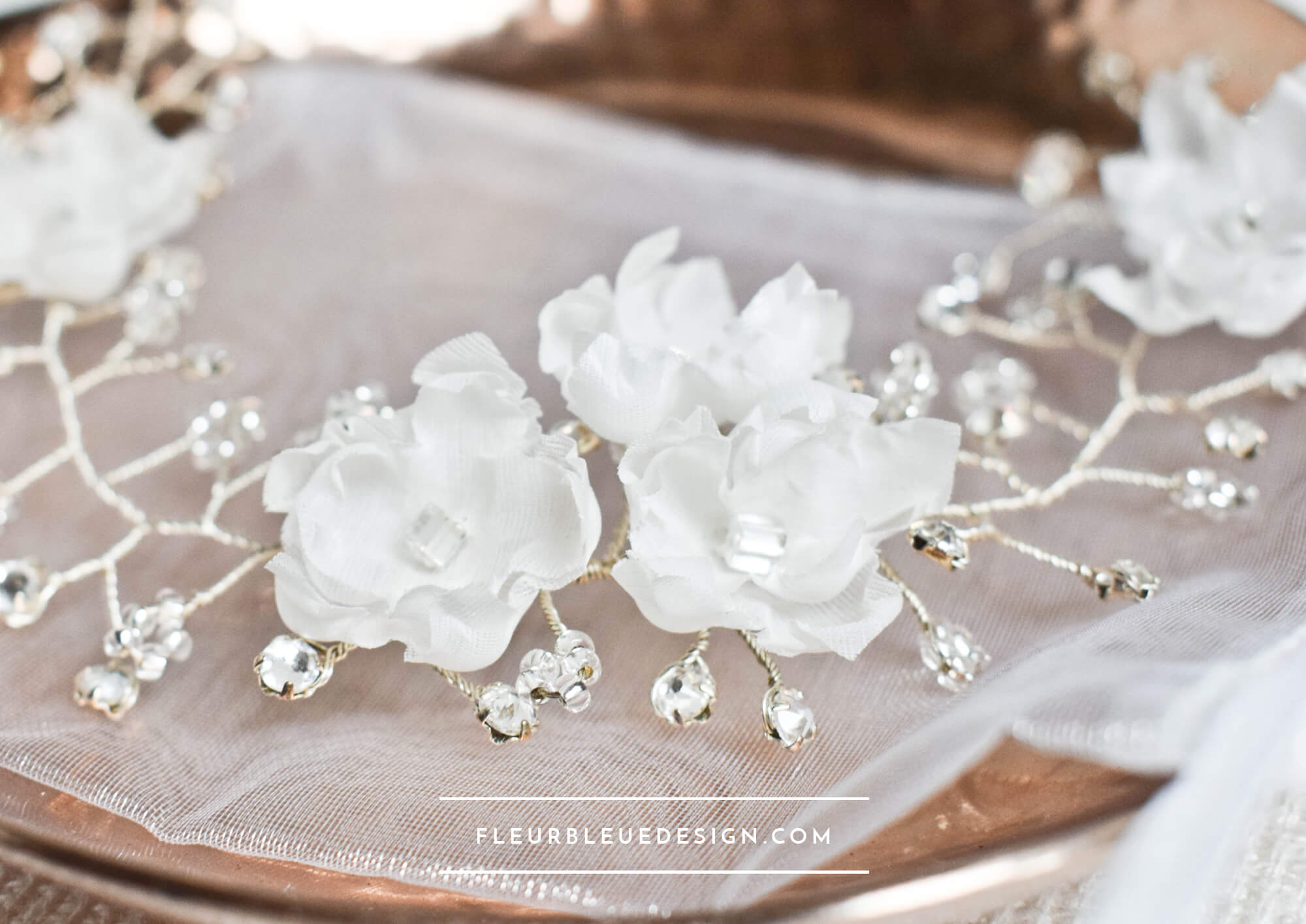 Ivory, the bride's favorite color
The bride can consciously avoid stress in the early stages of planning the wedding outfit. How? By not getting involved in the "perfection game" at all.
As a bridal stylist & bridal jewelry designer, I emphasize again and again that there is nothing wrong with combining different ivory tones. Rarely are all the individual pieces right next to each other. It will be not noticeable whether the veil, hair jewelry & Co. have exactly the same color or not.
More important for the complete impression is that the individual parts of the outfit are coordinated in style and above all that you as a bride feel comfortable with them.
And if you can't decide between more than one design or if you want to hear my recommendation, I'm happy to advise you. Just get in touch with me,