Notice: Die Funktion wpdb::prepare wurde
fehlerhaft
aufgerufen. Die Abfrage enthält nicht die korrekte Anzahl von Platzhaltern (1) für die Anzahl der übergebenen Argumente (3). Weitere Informationen:
Debugging in WordPress (engl.)
. (Diese Meldung wurde in Version 4.8.3 hinzugefügt.) in /customers/e/2/e/fleurbleuedesign.com/httpd.www/wp-includes/functions.php on line 5833
Kathy's bridal styling should be modern, relaxed and a touch romantic. We combined a half updo with big curls and a braid. or the birdal accessories we used a sparkling hairpin by FLEUR BLEUE DESIGN and added a veil. The bridal makeup was light and fresh.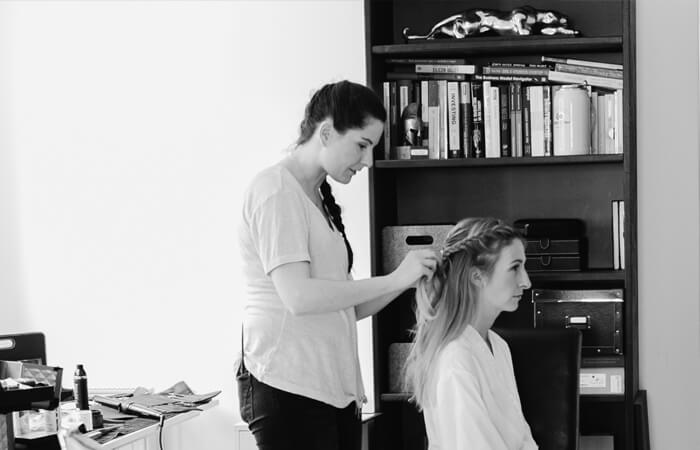 Bridal hairstyle
For the hairstyle, we braided her beautiful long hair to the side and put them in big curls. If two or more sections of hair is combined at the back of the head, it is always a good idea to cover the "connection point" with something pretty – in this case we used a delicate rhinestone hairpin
NADINE. Wedding hair jewelry looks pretty with a veil.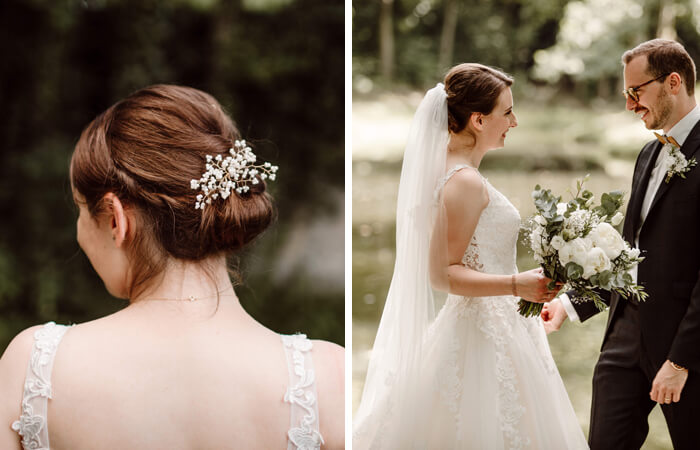 Combine hair accessories with a veil
On this topic I have written a blog post with tips and experience.
Braided elements are particularly beautiful with blonde or light brown hair tones to the advantage and provide a certain something in the bridal hairstyle. Whether the braid is to be loosened up or not, there are many possibilities to work with so that the result does not look boring in the end.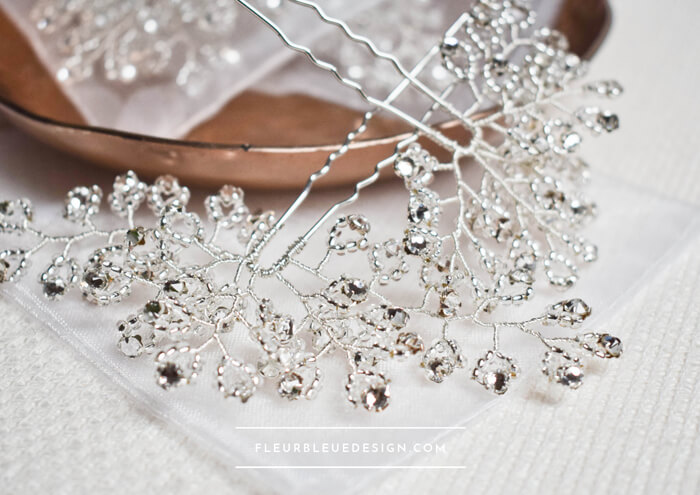 Bridal Make Up
Katha's type-appropriate bridal make-up focuses on emphasized eyes, natural blush and lips. In addition, we have chosen natural eye shadow tones, a fine eyeliner and individual artificial eyelashes.
Especially if you want to have professional photos taken, you should wear a "tick" more color than on a normal day. As a rule of thumb, about half of the colors disappear in the pictures. That is exactly why the use of artificial eyelashes has proven itself. Because if these are well chosen (no band lashes) and made, they not only look natural in the photos, but also provide the special eye look.
""Hello dear Dani,
it was also a lot of fun with you and
I was super happy with my styling the whole day!
Thank you so much."
Katha Bride: Katha
Photo: Christina Vetesnik
Bridal styling: Daniela M. Weise
Bridal hair jewelry: NADINE – FLEUR BLEUE DESIGN