Notice: Die Funktion wpdb::prepare wurde
fehlerhaft
aufgerufen. Die Abfrage enthält nicht die korrekte Anzahl von Platzhaltern (1) für die Anzahl der übergebenen Argumente (3). Weitere Informationen:
Debugging in WordPress (engl.)
. (Diese Meldung wurde in Version 4.8.3 hinzugefügt.) in /customers/e/2/e/fleurbleuedesign.com/httpd.www/wp-includes/functions.php on line 5833
I was allowed to develop a very special bridal styling for the dear Juliane. It is a feminine combination of a half-open hairstyle with special details and a fresh bridal make-up. Everything matched perfectly and created an unforgettable bridal look.
This styling is a wonderful example of how beautifully bridal hair accessories can be combined with a veil and the use can work one after the other.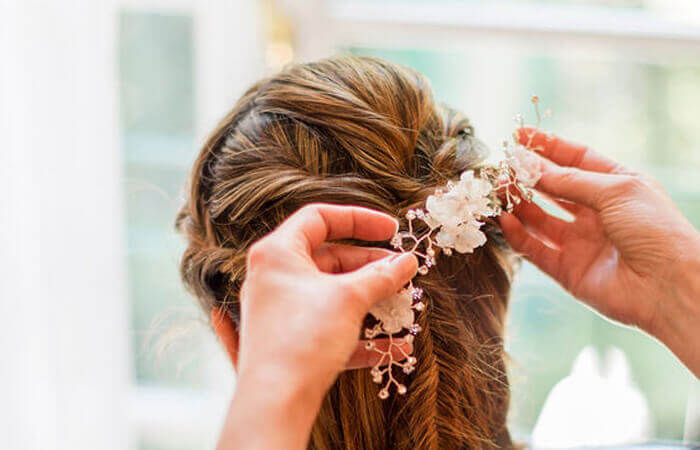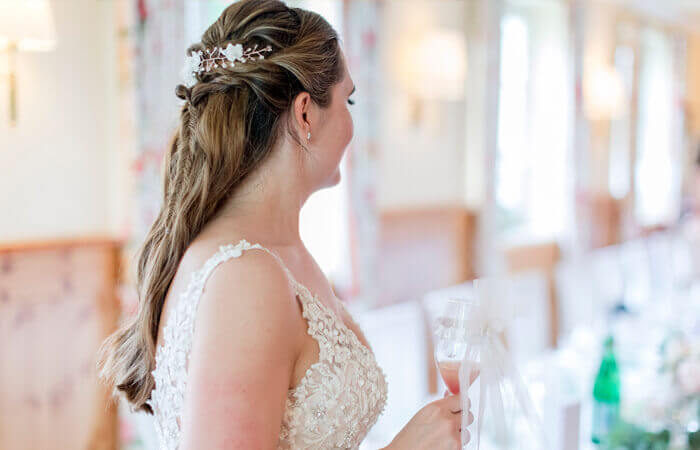 Bridal hairstyle
Juliane is blessed with an incredible amount of hair, which she wanted to show off on her wedding day. A half-open bridal hairstyle is wonderfully suitable for this, and can be designed quite individually. Twisted sections, a small herringbone braid and large curls or waves were desired by the bride in this case.
As bridal hair jewelry we used the headpiece SUSANN with delicate silk flowers (Etsy) – a wonderful alternative to fresh and usually rather delicate flowers. The whole look was finished off with a medium length veil, which could be removed during the course of the ceremony.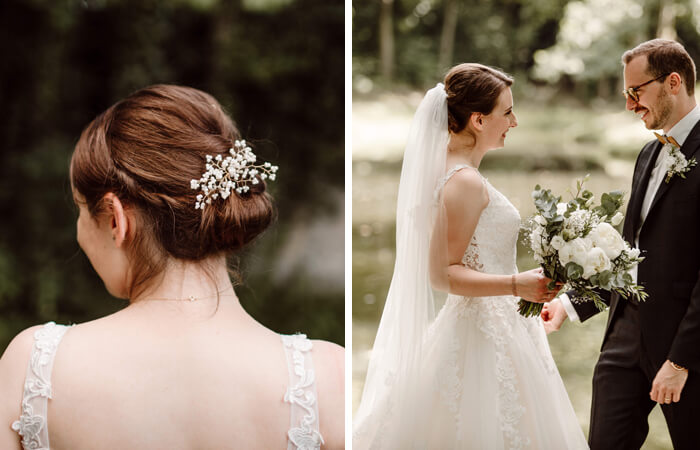 Combine hair accessories with a veil
You can read more tips about veils and wedding hair jewelry on my blog. Bridal Make Up
We made Juliane's eyes shine with colors appropriate for her type and added even more depth with artificial eyelashes. By the way, in the professional field one usually does not work with the band lashes available in the drugstore. These would be much too inflexible and rarely stay in place.
A fresh blush not only ensures a healthy complexion, but also emphasizes the cheekbones at the same time and perfectly rounds off the bridal makeup together with the matching lipstick.
See even more photos on Sindia Boldt's photography blog.
"Hello dear Dani,
Thank you from the bottom of my heart for my amazing bridal styling!
It just couldn't have been more beautiful and I just felt so
felt beautiful. The curls lasted the whole day,
even though I have such heavy & thick hair – you are the only one,
Who has ever done this with my hair so far!

My makeup also lasted until the wee hours of the morning
And I didn't even have to touch up my makeup even though it was so warm.
I got sooo many compliments because the styling was just true to type and natural -.
You really pulled it all out to make me look perfect for this important day!
With your professional and cordial manner, one simply felt already at the trial styling
felt well taken care of and advised. I can and will recommend you to every bride,
because for me there is no better stylist than you!

Thank you so much for being a part of our wedding and
I wish you nothing but the very best for your personal & professional journey!"
Juliane Bride: Juliane
Photo: Sindia Boldt – Atelier Hohenkammer
Bridal styling: Daniela M. Weise
Bridal hair jewelry: SUSANN – FLEUR BLEUE DESIGN
Location: Hotel Freisinger Hof