Notice: Die Funktion wpdb::prepare wurde
fehlerhaft
aufgerufen. Die Abfrage enthält nicht die korrekte Anzahl von Platzhaltern (1) für die Anzahl der übergebenen Argumente (3). Weitere Informationen:
Debugging in WordPress (engl.)
. (Diese Meldung wurde in Version 4.8.3 hinzugefügt.) in /customers/e/2/e/fleurbleuedesign.com/httpd.www/wp-includes/functions.php on line 5833
It should be a feminine bridal styling for Tina's personal dream styling. At our trial appointment, she opted for a classic, yet romantic updo. For this, she combined bride's hair jewelry from FLEUR BLEUE DESIGN with a long veil. The make up we have chosen to match her type, in warm tones.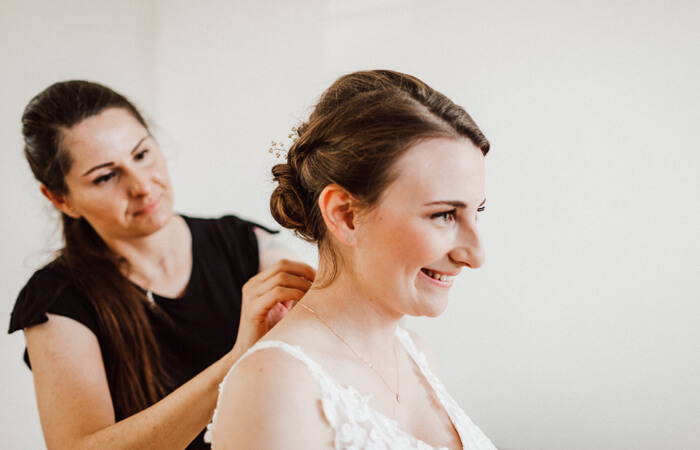 Bridal hairstyle
For many bride a veil belongs to the perfect bridal styling and also provides the special feeling. But what many don't consider is that in most cases it is taken off shortly after the ceremony. So it is only a temporary hair decoration. Therefore, it looks pretty when another accessory is waiting underneath.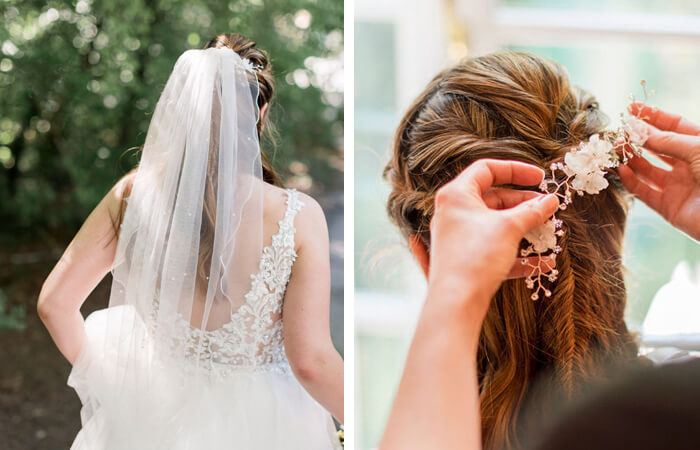 Combine hair accessories with a veil
You can read more about that in my blog.
To a wedding dress with delicate lace hair ornaments with real pearls can be combined quite wonderfully. In this bridal hairstyle we have used the large version pearl hair pin CHRISTINE Etsy .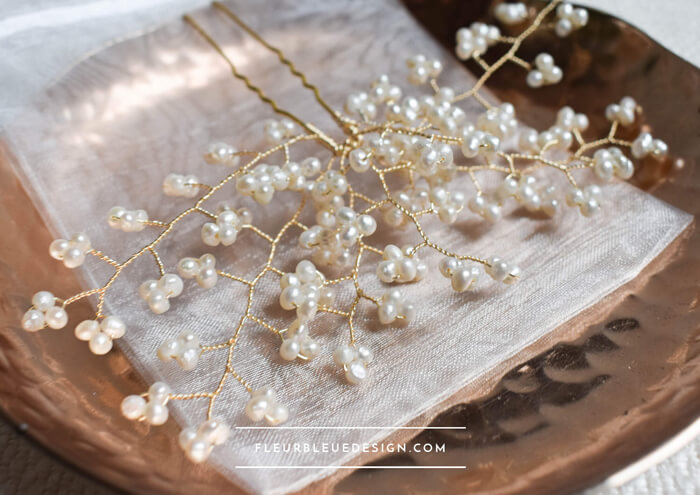 Bridal Make Up
A modern bridal make-up is for me synonymous with a fresh look.
A natural complexion, a discreetly accentuated eye make-up, a blush that conjures up freshness in the face and lips that are just as the bride likes them – sometimes more, sometimes less bold.
For Tina's eye make-up we chose warm colors with a touch of shimmer. The eyeliner was matched and emphasizes the shape of the eyes. By the way, I prefer to use a dark brown or a mauve tone instead of black. Black just seems too harsh too often when you want a natural make up.
"Dear Daniela,
I would like to take this opportunity to say a huge THANK YOU for your
support on our big day! It was really perfect
and I felt completely at ease."
Tina Bride: Tina
Photo: wertvollfotografie
Bridal styling: Daniela M. Weise
Bridal hair jewelry: CHRISTINE Haarnadel | Etsy