Styling examples are a great source of inspiration and on top of that they are really fun to look at! In this post you will find bridal hairstyle ideas with the NADINE accessory. About the design
NADINE is a 2-piece set of different sized and coordinated hairpins. It is a versatile hair accessory and adapts to your style.
Modern, romantic, playful or elegant, this accessory can look very different.
This design reminds of a flower branch or fan and focuses on shine. For this I use Czech glass beads, rhinestones as well as silver jewelry wire. Color-wise, the hair ornament is kept entirely in crystal & silver.
The size difference of the two hairpins is not great, but comes perfectly to advantage if you use both hairpins one after the other in the bridal hairstyle. This provides even more "depth" or enhances the effect.
Behind the Scenes
Rhinestones have a charm all of their own. Whether a glittering stone looks "cheap" or "noble" depends on how the stone was made. Even cut, clear color and expressive shine all play a role and there are huge differences in quality.
For me SWAROVSKI CRYSTALLIZED™ Elements are so far the best rhinestones on the market. Unfortunately, in the meantime they are no longer available everywhere and I am using my last supplies.
The glass beads are made in the Czech Republic and are characterized by evenness in shape and color. I like to work with them very much. Styling ideas
Whether feminine updo, playful braided hairstyle or classic bridal hairstyle, this hairpin set looks pretty. And of course, if you want, you can wear a veil with it.
Even more styling tips
I share more about Nicole's bridal styling on the Blog.
Tip:
Be sure to try different things with the two hairpins, sometimes placing them close together, sometimes further apart.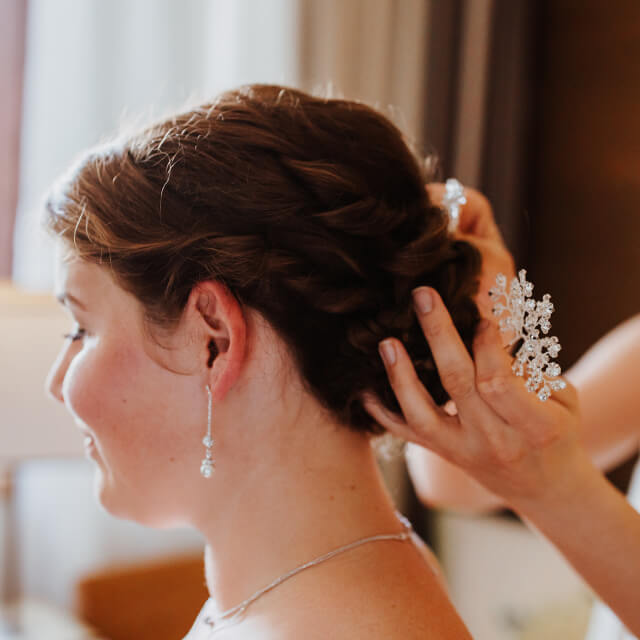 Photo: Sülo | Bride: Nicole | Brridal styling: Daniela M. Weise
– – – – – – – – – – – – – – – – – – – – – – – – –
Wedding hair accessoires: NADINE
(1) Bride: Lisa / Bridal styling: Daniela M. Weise / Photo: Ulrike Schwille / Bridal hair jewelry: + ELODIE DELUXE hairband
(2) Bride: Katha / Bridal styling: Daniela M. Weise / Photo: Christina Vetesnik
(3) Bride: Corinna / Bridal styling: Daniela M. Weise / Photo: Manu Frühn Photo & Design
(4) Bride: Nicole / Bridal styling: Daniela M. Weise / Photo: Sülo