Notice: Die Funktion wpdb::prepare wurde
fehlerhaft
aufgerufen. Die Abfrage enthält nicht die korrekte Anzahl von Platzhaltern (1) für die Anzahl der übergebenen Argumente (3). Weitere Informationen:
Debugging in WordPress (engl.)
. (Diese Meldung wurde in Version 4.8.3 hinzugefügt.) in /customers/e/2/e/fleurbleuedesign.com/httpd.www/wp-includes/functions.php on line 5833
It's nice that you are interested in the handmade silk flowers from FLEUR BLEUE DESIGN. I would love to tell you more about them, because flowers made of delicate silk fabric have a long tradition and can be used in many ways. As a bridal stylist & hairstylist, I appreciate their advantages and like to use them as hair accessories as well as accessories.
A note at the beginning:
when I speak of silk flowers, I actually mean flowers that are made of silk and
not artificial fabrics such as polyester.
Silk flowers have a long tradition
A look back into history
You might think that fabric flowers made of silk are quite a new phenomenon in the fashion world. Far from it! In fact, artificial flowers look back on a really long history. The talk is about 3,000 years! And they probably have their beginning in the Roman or Egyptian area.
In the Middle Ages, the craft of silk flower making has spread in the European area with Christianity. Especially Italian nuns become famous with it and their flower arrangements decorated church houses.
A worldwide flourishing industry arose by and by around the floral luxury article. It is mainly to the French fashion world of the 17th and 18th centuries that we owe the introduction of artificial flowers as decorative accessories for dresses, hats and hairstyles.[1][2] The creation of flowers from silk
The production
Whether true-to-nature models or a freer interpretation, whether mass-produced or handmade individual piece, artificial flowers are available in a huge variety and selection. Also the bandwidth of materials, tools and techniques for the production is large.
Artificial flowers can be designed freehand, or more evenly worked useing patterns, stencils or punching irons. Some artists work with color or use stabilizing wire parts. But what they all have in common is that life is brought into the flat fabric. This can also be done with the help of a so-called flower iron.
Behind the scenes of FLEUR BLEUE DESIGN
Silk flowers from FLEUR BLEUE DESIGN are also small handmade treasures. They are inspired by real flowers, but do not copy them 1:1 – they are interpreted in a modern way. The artificial flowers are created in several steps and are made by myself in the studio.
I intentionally avoid the use of harmful chemicals and wire or plastic parts.
Nothing is glued, but always sewn.
As a material I like to use silk organza. This is a slightly transparent silk fabric that allows the light to shine through – an ideal starting point for creating delicate flowers.
A look inside the studio
Step 1
At the beginning, the silk fabric is pretreated. This gives the finished flower its special & characteristic firm texture. This effect is intentional and ensures that the silk flowers stay in shape. It also reduces unattractive fraying of the cut edges. This step allows me to completely exclude shaping wire parts!

Tip: Order a silk sample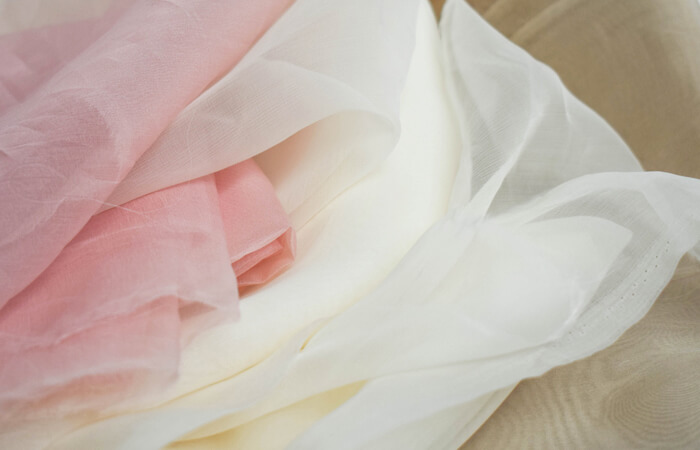 Step 2
Each flower consists of at least 2 flower shapes. These shapes must now be drawn with the use of templates and cut out as accurately as possible – by hand, of course.
JASMIN flower in the making
Step 3
It gets "hot" in the truest sense of the word with the Flower Iron. This requires the right temperature, skill, expertise and timing. One moment of not paying attention and within seconds you get unsightly burn marks and the petal is lost. Then you literally have to start all over again. Plastic would burn!
CHERRY BLOSSOM flower in the making
Step 4
The individual parts are then combined in the last step to a flower and connected with each other. As a flower stamp replacement I like to use glass beads – sometimes more subtle or sometimes opulent. Now the silk flower is ready and can be attached to a hair comb, hair clip or something like that. Accessories with silk flowers
Artificial silk flowers are a romantic and timeless accessory. Whether worn individually or as an ensemble, they are a pretty and feminine eye-catcher. They are versatile and also go wonderfully with different styles and occasions.
And it is worth mentioning that they also have some advantages compared to their real relatives. These include durability and easier handling.
A look into the collection
In my collection you will find hair jewelry with silk flowers and pins for the groom. Visit the shop to get an overview of the current jewelry pieces.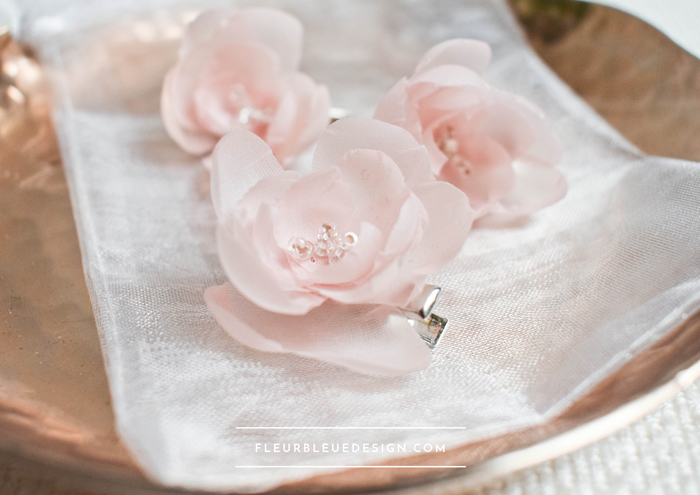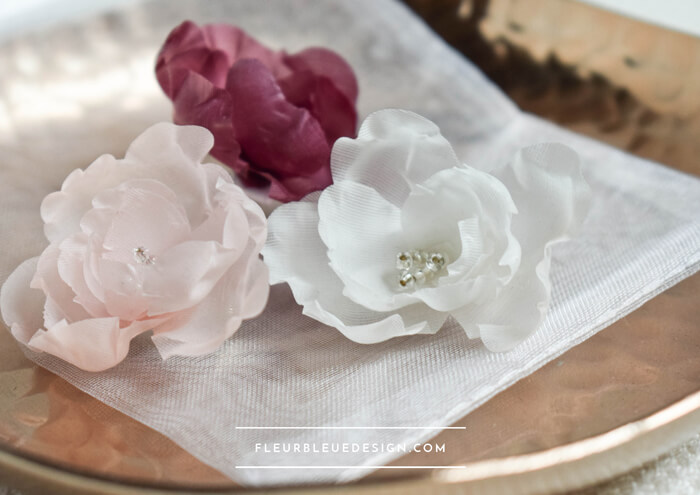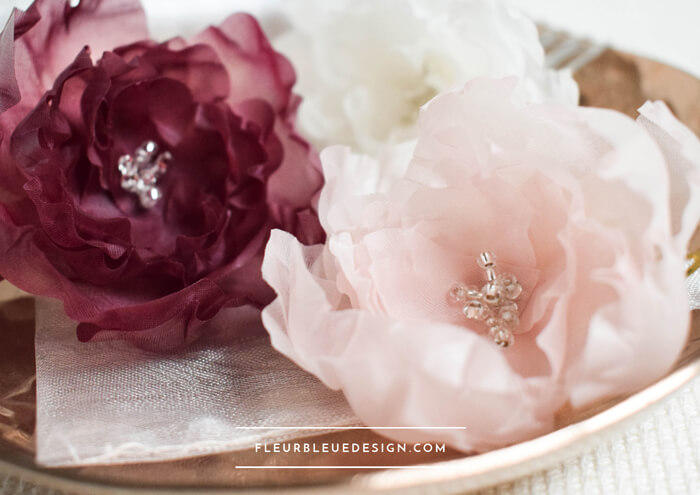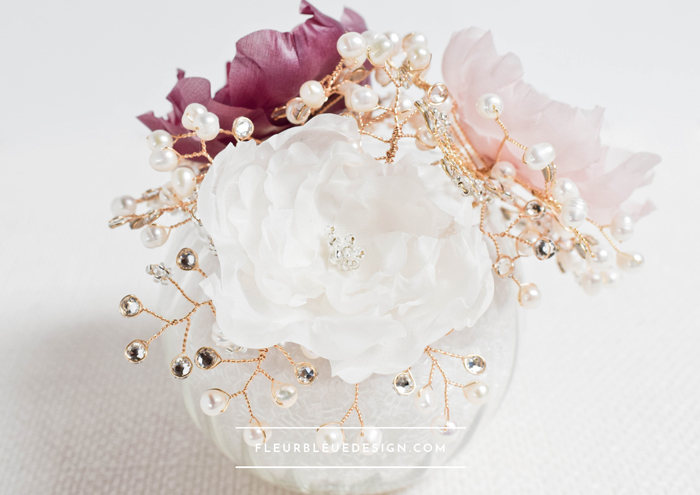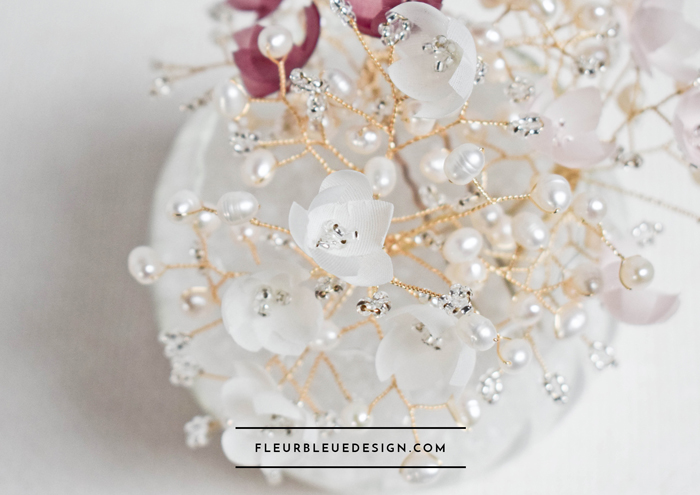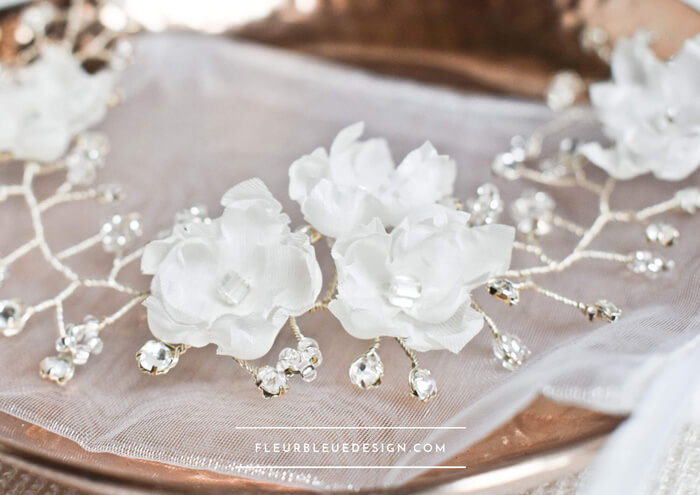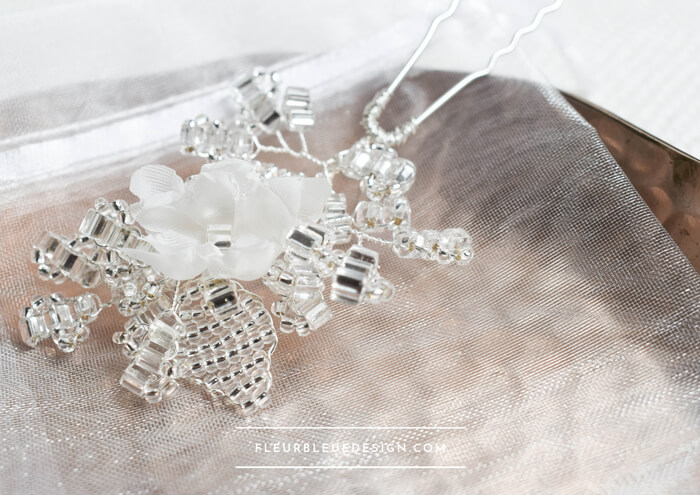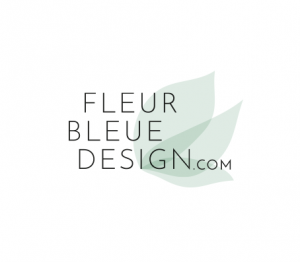 [1] Raht, Tione: "Die Geschichte der Seidenblumen", Hannover, 1981
[2] wikipedia.org