Notice: Die Funktion wpdb::prepare wurde
fehlerhaft
aufgerufen. Die Abfrage enthält nicht die korrekte Anzahl von Platzhaltern (1) für die Anzahl der übergebenen Argumente (3). Weitere Informationen:
Debugging in WordPress (engl.)
. (Diese Meldung wurde in Version 4.8.3 hinzugefügt.) in /customers/e/2/e/fleurbleuedesign.com/httpd.www/wp-includes/functions.php on line 5833
Nicole was the epitome of the modern and feminine bride: lace, rhinestones and pearls combined with her wedding dress, bridal hair accessories by FLEUR BLEUE DESIGN (Etsy) and the enchanting veils created a beautiful setting for her bridal styling.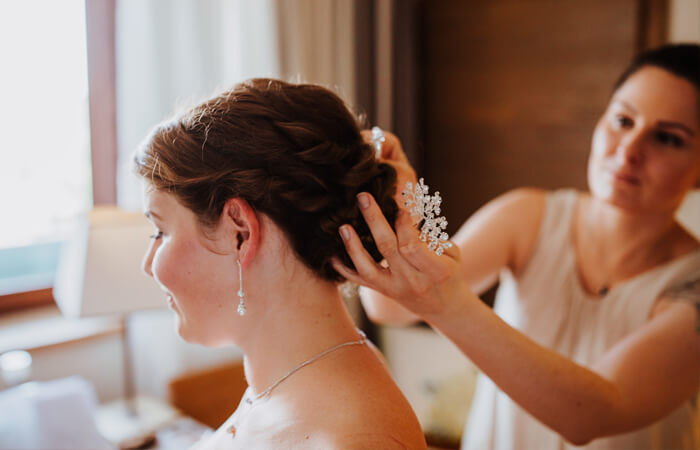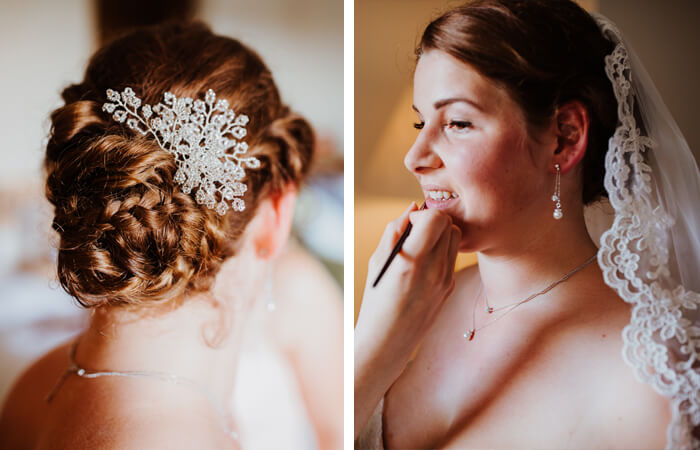 Bridal hairstyle
A summer wedding and/or a free back is an ideal opportunity to transform longer hair into a updo. To make sure that the hairstyle is not only beautiful on the back it can be build with different parts. Nicole has opted for accentuated curls as well as a braided side parts.
6 weeks before the wedding date we meet for our rehearsal appointment and Nicole brought her veil. Matching with the laced framed veil, we chose the sparkling 2-piece hairpin set NADINE (Etsy).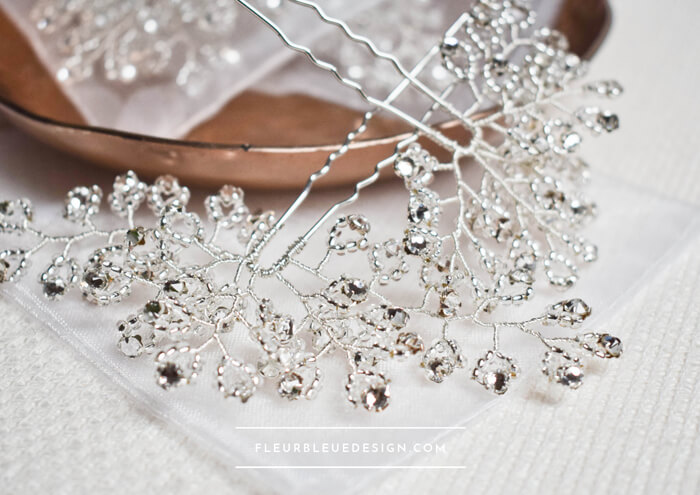 Many brides wish to wear a veil on their special day, but do not consider that it is usually taken off shortly after the ceremony and the bridal hairstyle is then left without a piece of jewelry. An uncomplicated alternative is to wear an accessory such as hairpins under the veil right from the start.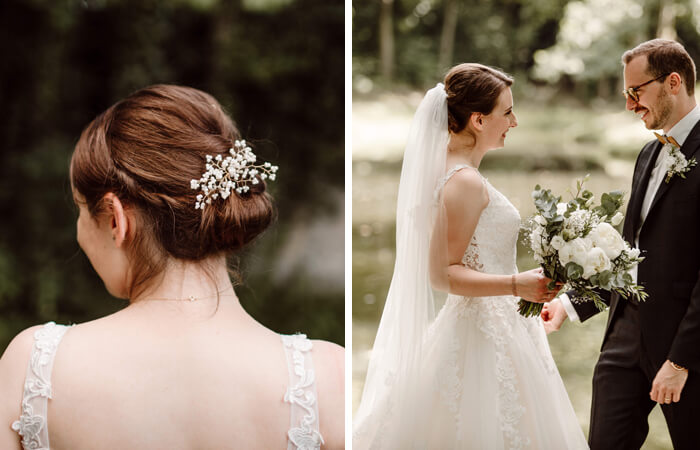 Combine hair accessories with a veil
You can read more about this in my blog post. Bridal Make Up
We kept the bridal make up very classic, bringing a lot of freshness to the face. Nicole has beautiful even skin and a light complexion – ideal for applying a little more blush. If the color is chosen to match the type and applied correctly, there's virtually no need to worry about applying too much blush. Not least because of the cameras, it can be a little more on this day/evening.
"Hello Dani,
Yes it was a beautiful day!
Thank you so much for the great styling! …"
Nicole Bride: Nicole
Photo: Sülo
Bridal styling: Daniela M. Weise
Bridal hair accessoires: NICOLE – FLEUR BLEUE DESIGN