Notice: Die Funktion wpdb::prepare wurde
fehlerhaft
aufgerufen. Die Abfrage enthält nicht die korrekte Anzahl von Platzhaltern (1) für die Anzahl der übergebenen Argumente (3). Weitere Informationen:
Debugging in WordPress (engl.)
. (Diese Meldung wurde in Version 4.8.3 hinzugefügt.) in /customers/e/2/e/fleurbleuedesign.com/httpd.www/wp-includes/functions.php on line 5833
Lovely Laura was quite an enchanting bride with a warm glow. For her special day, she requested a feminine bridal styling. But as a dancer, her make-up could be a touch stronger. I was happy to fulfill her wish. Perfectly rounded was her bridal look with the coordinated hair accessories – with it was hair jewelry from FLEUR BLEUE DESIGN.

Bridal hairstyle
A classic, yet modern-feminine updo is what Laura wanted. The highlight takes place at the back of the head, where individual curls were tucked into a voluminous knot. Brides often forget that they only see themselves (at least without a second mirror) from the front. And that's where it can be a nice idea to add a hair accessory like a hair tendril or hair band. That's exactly what we did for this styling.
As bridal hair accessories we used the hair wire BELLE. Especially for her, I then made a matching hairpin set in the same design that was used in the back of the curls. This looks especially pretty when the veil is removed during the celebration.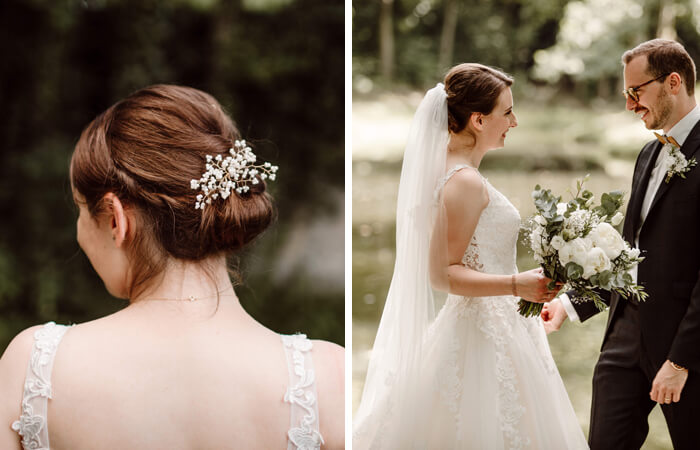 Combine hair accessories with a veil
You can read more tips about veils vs. hair accessories in my blog.
Tip:
If someone has naturally little or very thin hair, it can be difficult to conjure up volume at the hairline. With darker hair types, the scalp will then be even more visible. Here, a headpiece can be wonderfully used to create a stylish distraction – just like we did for Laura. If that is not enough, you can also fall back on colored hair powder that simulates more hair.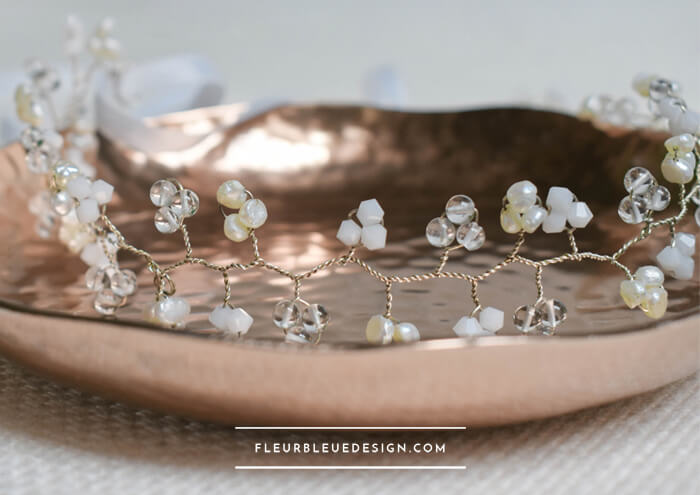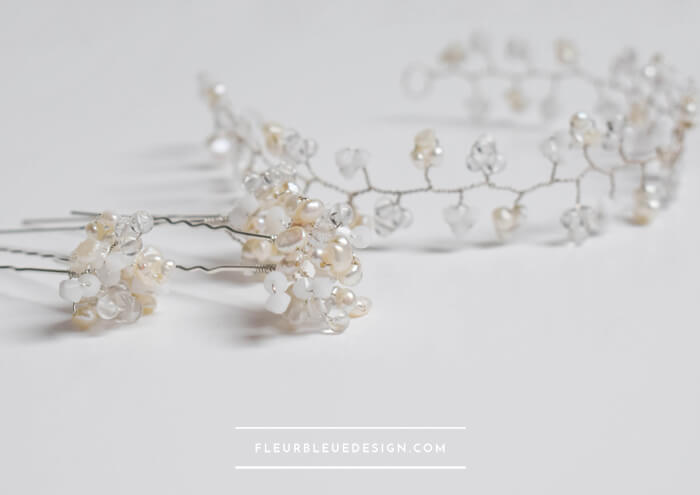 bridal make up
Laura chose an expressive eye make-up for her personal dream styling. We have wonderfully emphasized her eye shape with dark eye shadow and combined it with neutral tones as well as highlights. The intensity is once again strengthened with the eyeliner as well as the inserted eyelashes. As a balance, emphasized eyebrows can not be missing in a strong eye look.
To prevent the look from looking overloaded, we have held back on the lips and chosen a subtle tone and used fresh blush.
"Liebe Daniela,
thank you so much for the beautiful bridal styling you conjured up for me on this special day! I was and still am absolutely impressed what you have brought out of me.
The makeup and also the wonderful bridal hairstyle lasted all day and all night, which is really not easy with my fine hair.
I also received lots of great feedback on your beautiful bridal jewelry you made for me.
I am very satisfied and glad that you have styled me! I can only warmly recommend you to all brides, especially those who have a little more "difficult skin" like me – with Daniela you are in very good hands! Thank you again for everything! It was really a lot of fun – at least in this respect it's almost a pity that you "only get married 1 time".
Laura Bride: Laura
Photo: Flo Fotografie
Bridal styling: Daniela M. Weise
Bridal hair accessories: BELLE – FLEUR BLEUE DESIGN