Notice: Die Funktion wpdb::prepare wurde
fehlerhaft
aufgerufen. Die Abfrage enthält nicht die korrekte Anzahl von Platzhaltern (1) für die Anzahl der übergebenen Argumente (3). Weitere Informationen:
Debugging in WordPress (engl.)
. (Diese Meldung wurde in Version 4.8.3 hinzugefügt.) in /customers/e/2/e/fleurbleuedesign.com/httpd.www/wp-includes/functions.php on line 5833
For her big day, Michaela wanted a romantic bridal styling. For this purpose, we tried out various things and tested hair accessories from FLEUR BLEUE DESIGN during our joint trial appointment. She decided on a combination of an updo and a classic chignon, which she wore with matching accessories.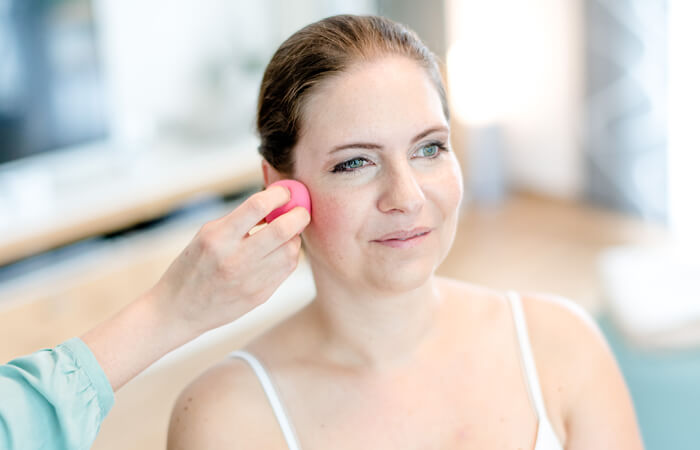 Bridal hairstyle
Michaela's bun is a more feminine version of a chignon and consists of several individually pinned up curls. This provides a romantic touch. The long veil with lace applications matched the delicate handmade silk flowers headpiece with peony and cherry blossom beautifully.
I would like to say a few words about the shown veil and give you background information. A veil is usually put on top on a hairstyle, not like we did from below. The hair comb had to be removed and a tailor had to sew in loops for the hair pins. Then I could thread the hair pins through them and stick them into the hairstyle. But please note that this variant can not provide a secure hold. Gravity, hugging, movement in general, etc. can cause the veil and/or hairstyle to loosen.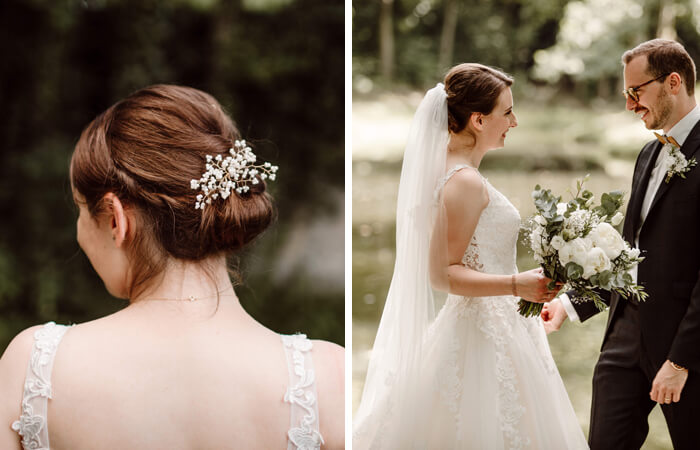 Combine hair accessories with a veil
You can read more tips about veils vs. hair accessories in my blog.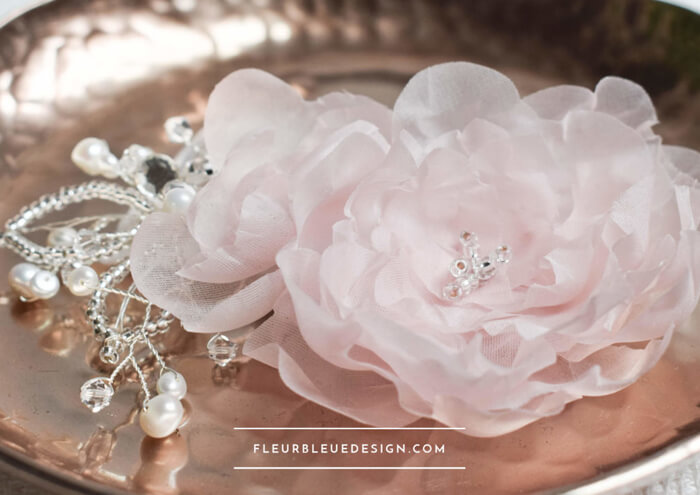 Bridal Make Up
The fresh make up really made Michaela's light eyes shine. We combined cool eyeshadow colours with an eyeliner in taupe. The slight shimmer in the inner corner of the eye conjures up a beautiful effect. And with the use of artificial eyelashes, we were able to accentuate the lash line a little more.
"Hello Dani,
Thank you so much!
It was just perfect on Saturday!
We are still blown away.
You also played a big part in it!
Thanks again to you."
Michaela Bride: Michaela
Photo: Lina Gössing
Bridal styling: Daniela M. Weise
Wedding hair jewelry: silk flower fascinator – FLEUR BLEUE DESIGN