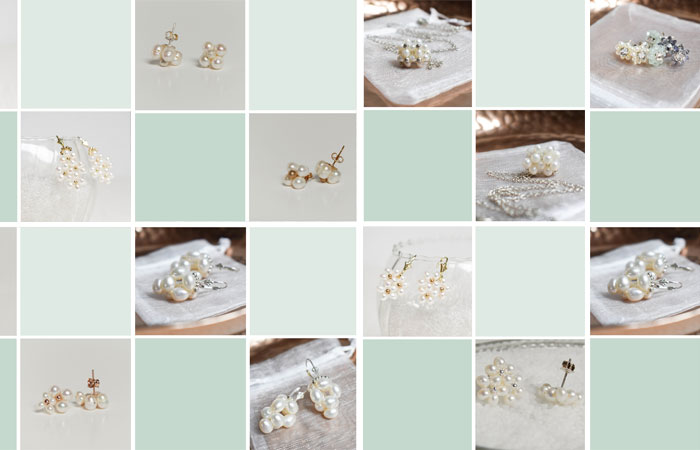 "Perlenschule" – the DIY beading school – FLEUR BLEUE DESIGN
Finally, the time has come and I can welcome you to the new DIY section of FLEUR BLEUE DESIGN! Many hours the project "Perlenschule" (beading school) has kept me busy behind the scenes and irritated my perfectionism to the extreme.
Some time ago, I was asked if I could offer my accessories for DIY. Months went by before I even got around to it.
Those who have known me for a while know that I myself am a big DIY fan and do not shy away from the one or other creative challenge. Although I have guessed it, I have underestimated it TOTALLY, how time-consuming it really is to write craft instructions – whereby "write" expresses too little:
Have and develop idea/s for a new piece of jewelry: to do this, try different techniques, materials, color combinations, sizes, etc. When the design is ready: try it again and write it down step by step. Now the actual instructions come into play: they should be written as simply as possible and in any case be understandable. And it should also look good.
– concept and design is a better word for it!
Note to my english speaking customers & international customers
The instructions are all available in German or English. Just select the language version you desire. You can order them in the online shop or on Etsy.

DIY
DIY on Etsy The path to the beading school
As a teenager I teached myself to work with beads using craft books (Google, YouTube, Pinterest & Co. didn't exist yet).
Fun Fact: As early as 5th/6th grade, my needlework teacher asked me to teach my classmates how to weave with glass beads. Decades later, I still love working with beads.
For hours I have …
tried different things with beads, adjusted, discarded and started again from scratch until I was satisfied.
It is particularly exciting, but also tricky, to create designs myself and let them come into being according to my own ideas.
All without ever having taken a single course. Become your own jewelry designer!
Today, of course, you can also make it easier and fall back on knowledge.
This is exactly where my DIY tutorials come in. Each is designed like a small compact course and leads through the various steps to the finished piece of jewelry.
DIY
DIY on Etsy
View all instructions
Have fun being creative 🙂
Would you like to see more tutorials? Then let me know with pleasure, so that I can put it on my list.
Go to contact