Sometimes you would like to have an immediate answer to your burning questions. Exactly for this purpose I collect frequently asked questions in this overview and have of course already answered them.
 Is the answer to your question not included? Or would you like to know more?
Then feel free to write me a message. Where can I buy your bridal jewelry?
All jewelry pieces can be ordered directly from the official online shop. A large selection is also available at Etsy. All orders over 100.-€ are shipped for free - worldwide.
Can I order as a guest?
You prefer to order as a guest and do not want to create an account? No problem! After you clicked "Proceed to checkout" in the shopping cart, the note "Continue without creating an account? Click here" and use the button.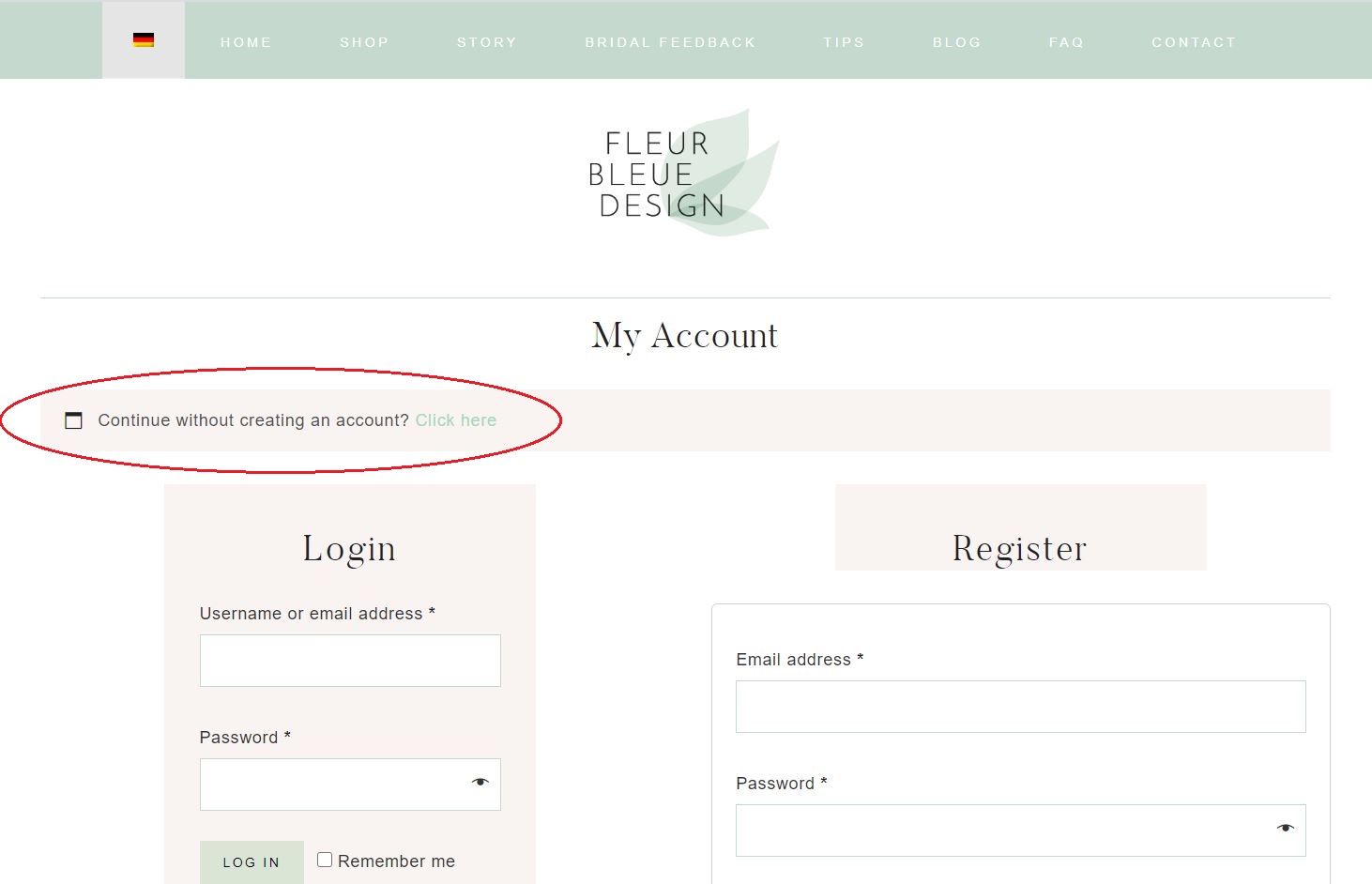 Then you can enter all the details for an order.
Is there a retail store?
Unfortunately there is currently no own FLEUR BLEUE DESIGN store or showroom and is not planned for the near future.
But I am at your availability for a hair accessories advice by mail. You can find more under the FAQ point Advice.
How long is the shipping time?
national mailings (Hermes):
Germany | 1-2 Tage
international mailings (Deutschen Post):
Austria | 2-3 Tage
Switzerland | 2-3 Tage
EU | 2-7 Tage
UK | 3-5 Tage
USA | 5-7 Tage
Rest of the world | 6-14 Tage
How fast can you deliver?
The delivery time varies depending on whether the piece of jewelery is in stock or made to order. Ready to ship pieces are marked with a delivery time of 2-3 days within Germany.
Custom order
Usually it takes a lot of time and different stages to develop a new jewelry design until it convinces me. Even an adaptation to an already existing design is work and time consuming.
Unfortunately, I am not currently accepting any requests for individual custom designs or any adjustments or changes to my designs.
Can I get a recommendation?
You range between my designs and/or would like to hear my recommendation? No problem! I am happy to assist you by mail with your selection.
A good time to think about hair accessories is when you have found your wedding dress and you have a basic idea for the bridal hairstyle. By that I mean whether it should be an updo or you want to wear your hair half-open, as a romantic braid, etc.
Please plan for consultation, preparation & shipping of the jewelry 2-4 weeks.
It would be helpful if you could answer the following questions:
What's your hairstyle?
Do you prefer silver or gold?
Can they be real pearls or glass beads?
What about rhinestone? Is it allowed to sparkle?
Do you like my silk flowers?
Please tell me your wedding date as well as your budget, so that I can consider your wishes. So that I get a better feeling for your bridal styling, you can forward pictures.

Real flowers combined with hair accessories?
Yes, flowers can usually be beautifully complemented with hair accessories. This gives the bridal hairstyle a romantic touch. Have you ever thought of using fresh green instead of flowers? In fact, there are only a few varieties of flowers that I have found during my work as a
bridal stylist are suitable as hair ornaments. For detailed information and many tips on this topic, see my blog posts.
Combine a veil with hair accessories?
Where can I find bridal styling inspirations?
Other bridal styles for which I was allowed to use FLEUR BLEUE DESIGN hair ornaments can be seen on my separate website as a bridal stylist: Bridal styling | Portfolio | Instagram by Daniela M. Weise
If you are still looking for your perfect bridal hairstyle, you may also like to check out my many boards Pinterest.
Silk samples
The silk flowers of FLEUR BLEUE DESIGN are small treasures and are handmade in several steps. An important step is to specially pretreat the silk. This gives the finished flower its special & characteristic solid texture. This is a deliberate effect and ensures that the silk flowers stay in shape and you enjoy it for a long time.
To give you an idea about color & I offer free silk patterns that you can easily order by e-mail. Just write me a message with your address. This service is totally free and without obligation.

Shown flowers: Cherry Blossoms
Cooperation
You're planning a photo shoot or have an idea for another project and are looking for matching hair accessories? Then drop me a line and tell me more.
You can have a look in my portfolio to see some of the projects I did in the past.
Wholesale
Thank you so much for your interest. Unfortunately I do not offer special conditions for retailers at the moment. All available pieces of Jewelry can be found directly in the Online-Shop at the indicated price.