Notice: Die Funktion wpdb::prepare wurde
fehlerhaft
aufgerufen. Die Abfrage enthält nicht die korrekte Anzahl von Platzhaltern (1) für die Anzahl der übergebenen Argumente (3). Weitere Informationen:
Debugging in WordPress (engl.)
. (Diese Meldung wurde in Version 4.8.3 hinzugefügt.) in /customers/e/2/e/fleurbleuedesign.com/httpd.www/wp-includes/functions.php on line 5833
In this collection I would like to show some of the most beautiful bridal stylings with bridal hair accessories from
FLEUR BLEUE DESIGN. Special thanks to all the brides for allowing me to show the pictures!
Below you will find what customers have to say about the bridal jewelry.
And by the way, you can find even more reviews in my Etsy-Shop.
Bridal stylings from real brides
Credits
I would be very happy to include inspirations from your bridal styling in the collection!
Feel free to contact me.
---
What customers have to say
Get an idea about the experience of female customers and read a few of the customer testimonials:

Thank you very much for the beautiful package, I was very happy about it! And the flowers have turned out really super, just as I imagined them, and the colors match the dress perfectly.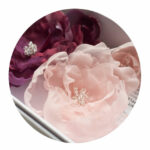 Stefanie

Do you want to read more feedback?
Check out my Etsy shop for more reviews.
---
Photo shoots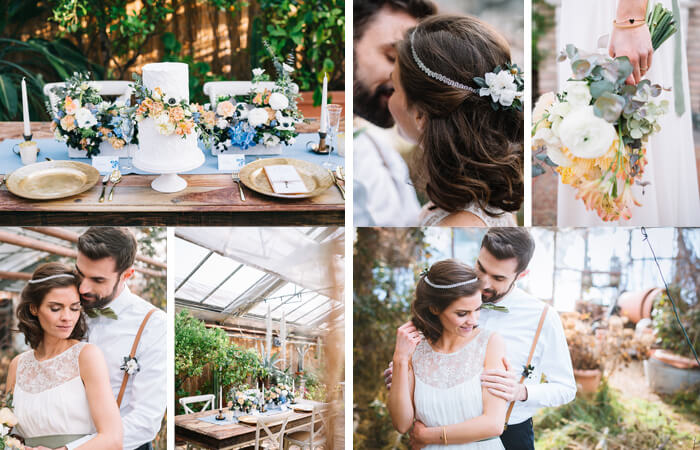 I'm a big fan of photo shoots & styled shoots and I'm very happy that FLEUR BLEUE DESIGN has been involved in several projects. A few have been featured in the press.
I am happy to support bridal stylists, hairstylists, hairdressers, photographers, bridal fashion designers & Co with their creative projects. Just contact me and tell me more. By the way, I offer wholesale conditions for colleagues.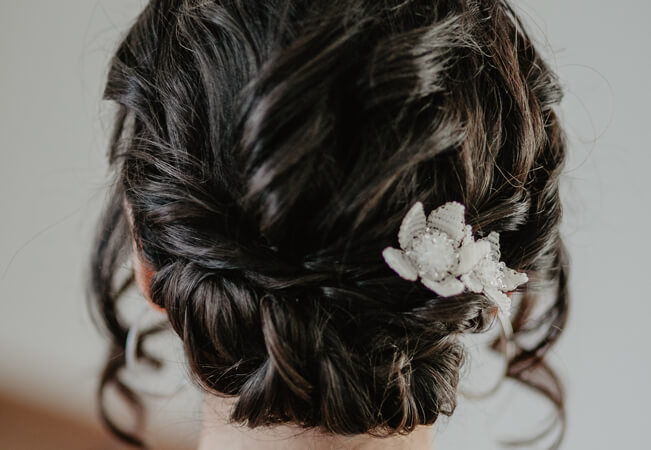 ---
left to right
(1) Bride: Corinna / photo: Manu Frühn Photo & Design / bridal styling: Daniela M. Weise / wedding hair accessories: NADINE
(2) Bride: Katrin / photo: Jung und Wild design / wedding hair accessories: JOSEPHINE
(3) Bride: Marianne / photo: Diana de Morales / bridal styling: Daniela M. Weise / wedding hair accessories: CHRISTINE Set
(4) Bride: Marianne's bridesmaids / photo: Diana de Morales / hairstyling: Daniela M. Weise / wedding hair accessories: ELODIE ROSA
(5) Bride: Jeannette / bridal styling: Daniela M. Weise / photo: Pale Photography / wedding hair accessories: CHRISTINE MINIS
(6) Bride: Katha / bridal styling: Daniela M. Weise / photo: Christina Vetesnik / wedding hair accessories: NADINE
(7) Bride: Lisa / photo: Ulrike Schwille / bridal styling: Daniela M. Weise / wedding hair accessories: bridal hair jewelry set #2
(8) Bride: Tina / bridal styling: Daniela M. Weise / photo: wertvollfotografie / wedding hair accessories: CHRISTINE
(9) Bride: Michaela / photo: Lina Gössing / wedding hair accessories: silk flower fascinator
(10) Bride: Laura / photo: Flo Fotografie / bridal styling: Daniela M. Weise / wedding hair accessories set: BELLE
(11) Bride: Tonja / bridal styling: Daniela M. Weise / wedding hair accessories: ELODIE DELUXE
(12) Bride: Minami / bridal styling: Daniela M. Weise / photo: Marie Hornbergs / wedding hair accessories: JOSEPHINE
(13) Bride: Juliane / bridal styling: Daniela M. Weise / photo: Sindia Boldt / wedding hair accessories: SUSANN
(14) Bride: Nicole / bridal styling: Daniela M. Weise / photo: Sülo / wedding hair accessories: NADINE Set
(15) Bride: Laura / photo: Lello Chiappetta / wedding hair accessories: FELICIA
(16) Bride: Alejandra / bridal styling: Daniela M. Weise / photo: Bertram Rusch / wedding hair accessories: JOSEPHINE
(17) Bride: Bettina / photo: Flo Fotografie / bridal styling: Daniela M. Weise / wedding hair accessories: CHRISTINE
(18) Bride: Laura / bridal styling: Daniela M. Weise / wedding hair accessories: FLEUR
(19) Bride: Patricia / photo: Melpomeni Martzoukos / bridal styling: Daniela M. Weise / wedding hair accessories: NADINE Minis
(20) Bride: Nadja / bridal styling: Daniela M. Weise / wedding hair accessories: FLEUR
(21) photo: Verena Fährmann I bildergeschichten - fotografie / bridal styling: Rowena Peetz / wedding hair accessories: FLEUR
---